Posted: 06/26/2014 1:12 pm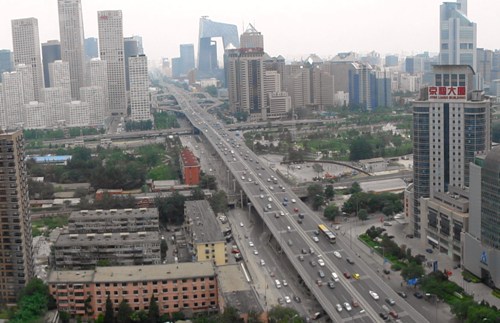 A proposed megacity encapsulating parts of Beijing, Hebei and Tianjin moved closed to reality yesterday with the announcement of a so-called "Beijing Seventh Ring Road", reported Sina News.
Gao Jinhao, head of the Hebei Provincial Office of Traffic and Transport, announced the plans on the department's official website.
The ring road consists of two separate roads. One road is planned to be 940 kilometers in length, and goes through areas of Hebei including Langfang, Baoding, Zhuozhou, Chengde, and Pinggu. The other road is expected to be 1,250 kilometers long and will go through areas of Hebei including Langfang, Baoding, Zhangjiakou, Chengde, and Tangshan.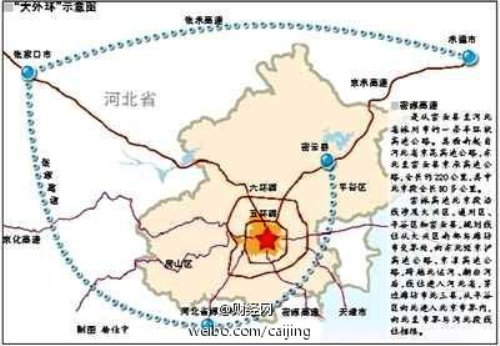 The announcement of the new ring road is part of a very complicated proposed transportation network concisely summarized with the numerically-significant name "28488″. This transportation network will serve as the backbone linking cities of the three areas together.
Furthermore, Gao called for more light rail and subway lines to be extended to Hebei. Caijing predicts the transportation grid serving Beijing, Tianjin and Hebei to be fully inter-connected by 2020.
The idea of a Beijing supercity is sure to bring dividends if successful. SCMP describes President Xi Jinping's ambition to turn the urban areas of Beijing, Hebei and Tianjin and its 130 million people into a single megacity as Xi's "legacy" project. Estimates place the price of amalgamation to be  RMB 42 trillion.
Meanwhile, a proposal to turn the many cities of the Pearl River Delta into a single megalopolis of 45 million people been slowly advancing since it was announced in 2011. As the transportation network is continually being reinforced between the cities, local residents have voiced their approval of further amalgamation.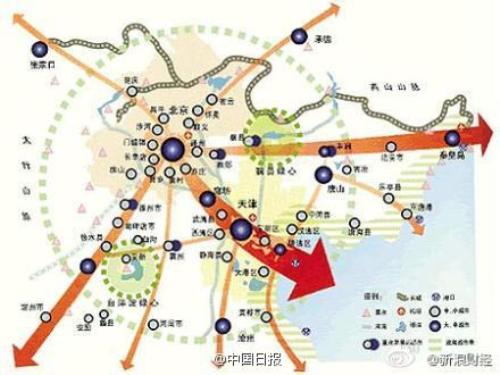 Photo: Caijing, Tianjin Diaries, China Daily