Posted: 08/13/2011 9:47 am
The War on Drugs – "Slave Ambient" (Secretly Canadian)
3.6 out of 5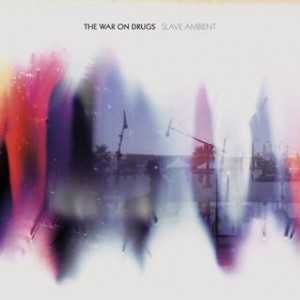 Songwriting relationships are no different from any other relationship; they are formed with the assumption that their combined strengths and weaknesses will create a greater, more cohesive whole. Thus, it goes without saying, that when one partner begins to outshine the other, internal strife may occur, and break-ups might follow. This dynamic makes Philadelphia-based band The War on Drugs an intriguing case study.
Formed in 2005, the band was founded by principal songwriters Adam Granduciel and Kurt Vile. After self-releasing a demo EP, appropriately titled Demo EP, they were signed to Secretly Canadian, who released the band's 2007 Barrel of Batteries EP as well as their 2008 debut LP, Wagonwheel Blues. While Wagonwheel Blues was an impressively cohesive debut, internally the band was experiencing some significant growing pains. Vile's solo material began to grow in popularity and resulted in his leaving the band and signing with Matador Records in 2009. When drummer/organist Charlie Hall and drummer Kyle Lloyd departed soon after, Granduciel and bassist Dave Hartley were left to pick up the pieces. Yet, while many might have believed that Vile was the creative force behind the band, Granduciel has proven otherwise. Maintaining Wagonwheel Blues' classic rock leanings while replacing its lo-fi tape hiss with glossier production, organ drones, saxophone and stronger shoegaze influences, Slave Ambient is an impressive step forward for a band that, by all accounts, imploded.
There are a variety of genres that might explain The War on Drugs' unique sound, yet "Dylan-gaze" or "Springsteen-sheen" might be the most apt. As Granduciel makes no attempt to deny these influences, I may as well be frank: his voice sounds remarkably like Bob Dylan. In case you thought it's some sort of studio trickery, it's not. I had the opportunity to catch the band earlier this year when they opened for Destroyer and, from the first note, Granduciel was a dead-ringer for late 60's Dylan, albeit an incarnation of him drowned in digital reverb and early Sonic Youth. "Been a soldier from the start, been released and blown apart. I've been inside the only stone that's been raging," sings Granduciel on album opener "Best Night". The track has a wonderfully worn, sunburst sheen. Full of organ flourishes, acoustic guitar, some fantastic electric guitar leads and even faint brass, "Best Night" takes its sweet time in unfolding before drifting off into the distance around the five and a half minute mark. Minus the religious iconography, there are more than a few similarities between the arrangement on "Best Night" and Dylan's "Precious Angel". Most notably, Granduciel has some impressive guitar leads, reminiscent of Mark Knopfler's playing on Dylan's "Precious Angel". "Brothers" paradoxically turns up the shoegaze dial and yet somehow has the most distinct Dylan vocal on the record. Here Granduciel really exaggerates eeeeeach and eeeeeevery vooooowel: "Looking out from somewhere, I've been thinking, I've been rolling past the seas. Wondering where my friends are going, and wondering why they didn't take me."
The War on Drugs doesn't stop at Dylan. Elsewhere, the arrangements are uncannily Springsteen-esque. This is most apparent on the marching "Baby Missiles", where E-Street synth swirls, a driving drum measure and the Boss' vocal pacing play like an early E-Street demo right down to Granduciel's harmonica solo and Springsteen's trademark "woo, woos" lifted from Born in the U.S.A.'s "I'm on Fire".
Slave Ambient contains four instrumental interludes, and though the effect was well utilized on Wagonwheel Blues, here, the results are mixed. The synth drones, saxophone and ambient textures on "The Animator" act as the perfect precursor to stand-out "Come to the City". The former bleeds into the latter, bringing a sense of urgency to Granduciel's vocals and the building percussion. Elsewhere however, the interludes present as unnecessary baggage and disrupt the flow of the record (there's no reason "Original Slave" needed to be crammed between "Baby Missiles" and the fantastic album closer "Black Water Falls").
While the aforementioned tracks present a unique modern twist on shoegaze, Americana and classic rock, at 12 tracks and almost 47 minutes, the saturated production and constant synth/organ droning results in a sameness that is ultimately Slave Ambient's undoing. While Slave Ambient is undoubtedly a better record than its predecessor, the more stripped approach of Wagonwheel Blues allowed for greater variance and more room for Granduciel to breathe. That said, the mere release of this record feels like an achievement and as a result of the significant line-up change, should by all intents and purposes be considered a debut rather than a sophomore release. That being the case, I'm willing to cut Granduciel some slack; he's clearly directing the ship in an interesting direction.
Follow @PRD_SpinDoctor
Read previous Spin Doctor reviews here