Posted: 12/14/2012 11:17 am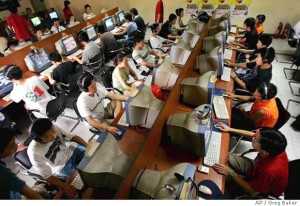 It could be argued that Shenzhen is becoming China's very own Silicon Valley.  It is the home of Tencent, China's largest web company and creator of QQ and the WeChat/Weixin apps, and also Huawei, one of the largest telecommunications companies in the world.  Shenzhen will also be home of Baidu's impressive new international headquarters when it opens in 2015.  This doesn't even touch on the fact the vast majority of the world's electronics are manufactured here or near here, and a burgeoning trade of gadgets and toys has made Huaqiangbei almost as famous as Tokyo's Akibahara neighbourhood.
It should be no surprise then that Shenzhen also leads the way when it comes to internet penetration rates and use of Sina's popular Weibo microblogging service.  The Shenzhen Development Internet Research Report found that Shenzhen's internet penetration rate is 76.8%, well ahead of Beijing and Shanghai. It means means 7.97 million people are online in the city.
Liu Bing, vice-president of China Internet Information Center, said that Shenzhen's netizens infrastructure is better than most cities in China. Netizens between 20 to 40 year-old account for approximately 60%. Take a closer look on these young netizens, student groups are comparatively smaller while on-job groups are bigger. Netizens' education level is higher than the national average.
Guangzhou's rate stands at 72.9%, also ahead of Beijing and Shanghai.
As for Sina Weibo use, the report says it is used by 58.6% of netizens in Shenzhen, which is 10 percentage points higher than the national average.
At the same time, Shenzhen weibo users are more active. The ratio of netizens who use weibo 3 times per day is 16 percentage points higher than the average. Weibo users that spent more than 2 hours per day account for 35.3%.

Except for performance on weibo, Shenzhen netizens are also more active on SNS, blogs, BBS and online videos compared with netizens in other first-tier cities.
Perhaps Beijing's vaunted Zhongguancun won't be considered ground zero for China's tech industry for much longer.
(h/t @Chomagerider)