Dongguan gets its first taste of authentic Mexican
Posted: 04/3/2014 11:50 am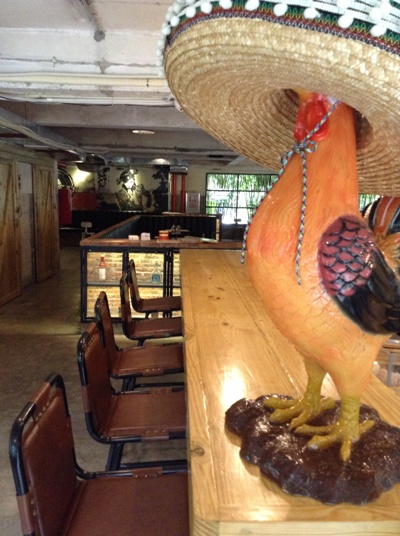 Mexican food has always been popular with foreigners in Dongguan. Burritos, fajitas and enchiladas are likely to be found in any food menu of any bar around Bar Street. For that reason, it is surprising that no authentic Mexican restaurant has opened in the city.
That changed late last year when El Caliente opened in Dynatown, promoting itself as a true Mexican restaurant. Despite the popularity of Mexican food in Dongguan, El Caliente has divided opinion among some. We recently took advantage of their set lunch to see for ourselves.
When entering El Caliente you quickly notice its stylish industrial décor and cool vibe. Steel pipes run along the ceiling. The red brick walls are covered in graffiti. Painted oil drums function as tables outside, and the bathrooms are decorated in pop art. As well, this restaurant also has one of the hipper playlists in Dongguan with music from the likes of James Brown, Beck, A Tribe Called Quest and The Cure.
For starters we tried the Sopa Azteca, a spicy tomato broth mixed with crunchy strips of tortilla, cheese, and avocado. The main course was Tostadas covered in fried egg, shredded lettuce and sour cream, with a side of rice and refried beans. The set lunch also included a free tea or soft drink and in total it cost a reasonable RMB 90.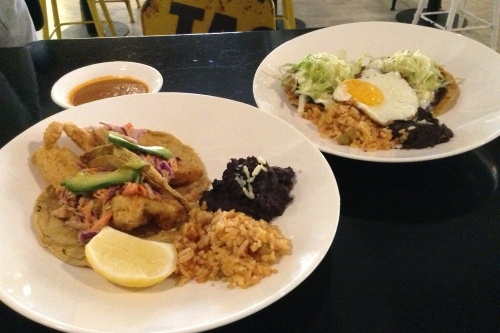 As with any familiar cuisine, trying its authentic dishes can sometimes be surprising in comparison to its taste that you have become used to. Just like how Chinese food in England tastes different from the Chinese food in China, so too does the Mexican food at El Caliente taste different from what you can find at other restaurants in Dongguan.
While the dishes do look slightly unfamiliar and taste somewhat unusual, it can be refreshing to try something that is different. It may be tempting to compare the two, but it perhaps makes more sense judge them separately as what they really are; the authentic Mexican cuisine you find at El Caliente, and the Tex-Mex style you find throughout the rest of Dongguan.
Regardless of whether you prefer to eat Tex-Mex or authentic Mexican, there is little disagreement to be had over El Caliente's choice of drinks. They have over fifty tequilas on their menu and a wide selection of cocktails served frozen or on the rocks. Even if you prefer Tex-Mex, El Caliente is worth visiting for some frozen margaritas on a sunny afternoon or some tequila shots on a wild night.
This may not be the Mexican restaurant that many were expecting, but hopefully dissenters can look past these differences. El Caliente is a cool place to hang out for grabbing dinner or just to enjoy a few drinks.
Click here for address and contact information.
Photos: Edward O'Neil