Chilling out at a student hangout
Posted: 04/22/2013 1:00 pm
Prices seem to be rising in China these days, especially in first tier cities like Beijing and Shanghai. Down here in the PRD, we have our own inflationary pressures: bars and restaurants in Shenzhen and Guangzhou seem to be increasing much faster than people's salaries. This correspondent remembers when beer at some watering holes cost only RMB5 per pint during happy hours. My, how times have changed.
While it's getting harder to find cheap deals in the PRD, it's not impossible. The Nanfang stopped by one such establishment recently and found 100 yuan can still go a long way.
Helen's Bar opened in Dongguan within the past 18 months, one of the latest establishment of the chain of backpacker bars that have spread across China like H7N9. It's continually rated among the most popular places to drink in Wuhan, Xiamen, and other locales, and even has outlets in places like Beijing and Shanghai. So with a pretty good track record among the fen-pinching student and laowai populations, it was a welcome addition to Dongguan's quickly-evolving nightlife scene.
Helen's is quite spacious and dimly lit with bench-style seats and some communal tables. It offers up a cozy environment and a decent selection of alcohol. When we stopped by we were starving, so we checked out some of the food on offer as well.
First of all, the menu was more extensive than we expected. We'd heard about Helen's pizzas, but didn't know they also offered several soup, salad, pasta, and hamburger options. If you want to pass on the pub grub and opt for healthier fare, they also have smoothies, juices, milkshakes, yoghurt shakes and more.
We had a simple draft Carlsberg for RMB25, but Tiger was on tap as well alongside Heineken for RMB30. The bottled beer selection ran from RMB15 for Tsingtao up to RMB45 for Leffe, which is a nice option.
Shortly after the beer came, our appetizer arrived: onion rings. How could we pass it up? Perhaps it was a hankering for Burger King, we're not sure. Anyway, the onion rings were decent and were enjoyed all around. There were other interesting options on the appy menu too, including popcorn. Let us know it was.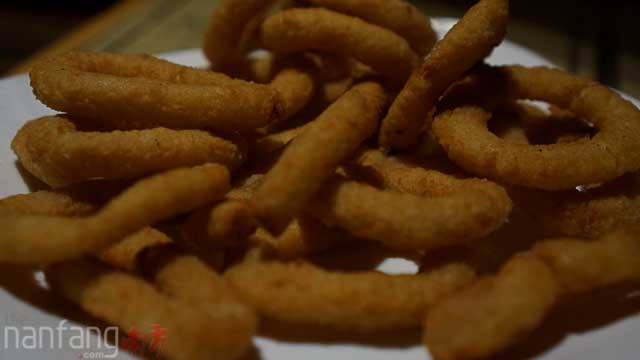 For the main course we were extremely tempted to try the mac and cheese, which was going for a mere RMB35. But we settled on what Helen's is known for, which is pizza. There are 12 kinds of pizzas on the menu, with the margherita (tomato, mozarella, and oregano) going for only RMB39. The pizza selection gets increasingly more complex, with the seafood pizza, featuring shrimp, cuttlefish, and seashells (??), going for RMB58. We settled on the meat lovers, which didn't take too long to arrive and was pretty much what we expected.  While not the best pizza in Dongguan, it certainly holds its own, and you can't go wrong getting a pile of meat on pie for only RMB48.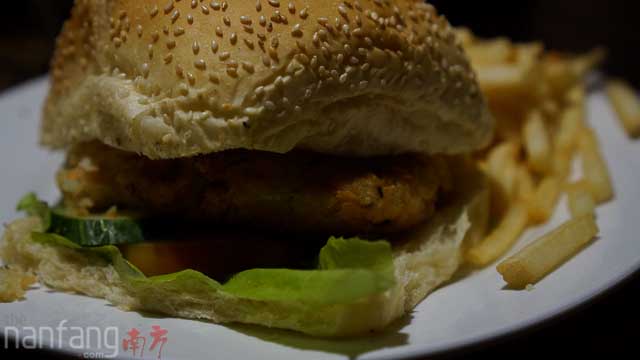 We also ordered the veggie burger, which arrived adorned with tomato and cucumber and a side of fries. It was enjoyable (we aren't sure what the patty was made of, but it was tasty) and we appreciated the veggie option on the menu.
We weren't there in a particular party mood, but this place seems to be designed to accomodate large groups of friends. The large communal tables, pop music mix, and famous 3L tubes of beer are all ideal for groups. When you throw in cheap pizzas, you can't go wrong.
Helen's is indeed a welcome addition to Dongguan's bar scene, and judging by the crowd that was on hand when we visited, has already earned a place for itself among the city's nightlife aficionados.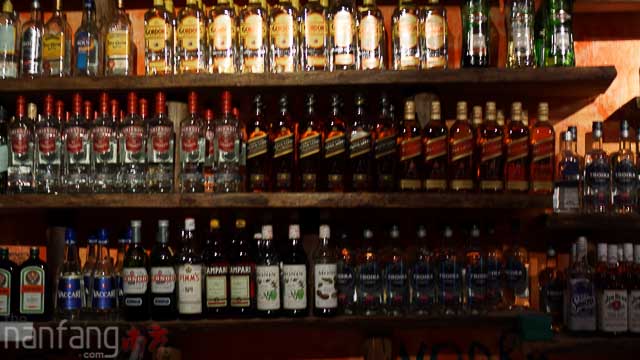 Find Helen's address and contact information here.