Beijing Times Reporter Bribed Not To Report On Sinkhole
Posted: 09/10/2014 9:00 am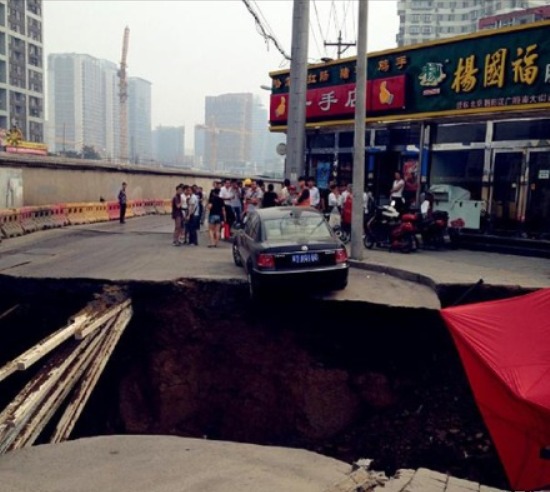 Several construction workers bribed a reporter with the Beijing Times at the scene of a massive sinkhole on Beijing Metro Line 14, reports Guangzhou Daily.
While attempting to report on the incident, the reporter was confronted by seven to eight workers wearing safety hats. He was accosted and had his camera taken away. The reporter was then photographed receiving a bribe to ensure the story would not be publicized.
According to an eye witness, the hole suddenly opened around 1PM on September 6. The 25 square meter hole, which was 5 meters deep, opened at the construction site directly below Guangshu South Boulevard, near the location of the future Line 14 Futong West subway station in Chaoyang District.
When the Beijing Times reporter arrived at the sinkhole around 2pm, police were not present, nor was there any containment of the area. Upon seeing the reporter, one of the construction workers reportedly said,
What are you doing? Don't let him go, take away his camera and delete his photos!
No injuries were reported in the collapse of the road, though a nearby car had to be towed away.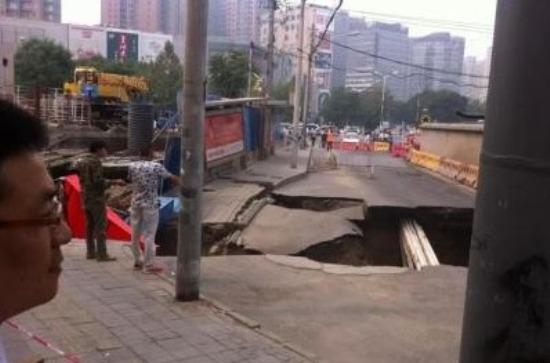 Four nearby businesses are currently closed as access to the road was cordoned off, and broken sewer pipes seeping raw sewage have left a foul smell in the air.
Construction workers for the Line 14 Futong Station construction company used two front loader dump trucks to fill in the massive sinkhole soon after the incident occurred.
On the evening of September 6, a spokesperson for the construction company named Mr. Guo, explained that due to heavy rains in Beijing, the soil beneath the road had swollen causing the sinkhole. However, according to Guangzhou Daily, the cause of the sinkhole was a collapse of a safety pillar required for the construction of the subway tunnel.
Photos: Guangzhou Daily