Chen Guangbiao Says Homeless American Rejected Cash Fearing US Chengguan
Posted: 07/3/2014 9:55 am
Billionaire tycoon and self-styled philanthropist Chen Guangbiao recently came back from a trip to New York where, among other things, Chen handed out cash for free and treated hundreds of homeless people to lunch. Critics labeled the visit a PR stunt, and now more details are surfacing about the visit.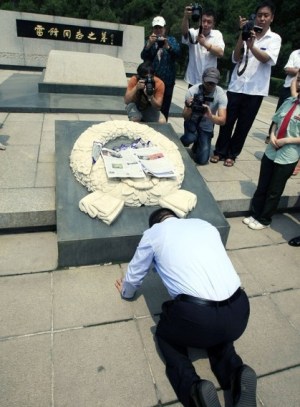 Tuesday morning, after returning to China, Chen Guangbiao visited the grave of Lei Feng, a person revered by Chinese people because he epitomizes the highest possible morals and achievements that a Chinese person can hold. As Chen kowtowed and offered flowers, he laid down a copy of the New York Times that told of his great deeds performed in New York, reported Sina Finance.
Chen said he wanted to report his good deeds to Lei Feng, and show how his philanthropy had made headlines worldwide. But even Chen admits his mention in the New York Times was due to an advertisement that he personally paid for.
Chen said the goal of his US visit was to spread the teachings of Lei Feng to Americans; things like the importance of being industrious, hardworking, selfless, and patriotic. He even stressed how seriously he took his kowtowing at Lei Feng's tomb:
I gave Uncle Lei Feng three bows of the head. Each of my kowtows were heavy blows to my head. If you were standing next to me as I did it, you could hear me banging my head. Bang! Bang! BANG!
READ: Unable to Buy the New York Times, Chen Guangbiao to Treat New Yorkers
Chen then went on to call his New York trip 90% successful since he was able to achieve all of his goals:
I brought the virtue of the Chinese people to the USA and was able to change the image of the wealthy Chinese person. Also, I was able to express my opinion on the transformation of the Chinese economy, and that the Chinese economy will not breakdown. I was also able to treat the homeless to lunch, and so was able to introduce the spirit of Lei Feng to US citizens.
Those unfamiliar with Chen's goals can read about them in his New York Times ad.
But not everything went according to plan. Chen explained why his planned lunch for 1,000 homeless people had to be scaled back to 250 at the last minute:
That's because the NYC police would not allow it, and so we had to cancel it. I originally wanted to hold it in restaurant of the boathouse of Central Park with 300 people inside, and 700 people outside on the lawn. However, NYCPD was afraid something would happen and didn't let us hold a banquet on the lawn.
Chen had also promised to give homeless Americans $300 each, but decided against it after strong objections in the US. He said despite not handing out the money, he didn't break his promise:
I've already honored my commitment. I've given the money that was going to go to the 700 people to two homeless shelters. However, they don't want to announce it to the public, and so I've honored their intentions. $210,000, I verify that I've honored my committment, and I have the receipt to prove it.
Vice reports that the homeless shelter that received the donation has been named, and it's the same shelter that was hosting the event in the first place: the New York City Rescue Mission.
But perhaps the most humiliating moment was when Chen was rejected when trying to give money away. Chen explains:
This is a misunderstanding of the media. Many reporters were constantly following me. Right in front of the homeless shelter, I saw a vendor who was blowing bubbles and selling backpacks. I wanted to purchase something in order to help him. I bowed, and offered a hundred dollar bill with both of my hands. I said, I want to buy something from you, please keep the change. My translator translated this for him. However, because he saw so many reporters, so many cameras pointed his way, he probably thought that the chengguan (city management enforcement workers in China) were out to capture him, and so he left. There are chengguan in the USA as well. He wasn't a homeless man, everyone there at the scene knew this. However, the media made this rumor afterwards saying that I had been rejected by a homeless person.
Unfortunately for the homeless people who still want to take Chen Guangbiao up on a raincheck, he won't be going back to the USA anytime soon to perform his acts of charity. Rather, Chen now has his sights set on Africa.
Photo: Global Times, QQ, Sina Finance, NY Post