College student from Zhongshan drops out, runs own successful porn website
Posted: 07/30/2012 1:00 pm
A former college student surnamed Kang, from Zhongshan's Xiaolan District, who illegally earned RMB27,800 from his own porn website, has been arrested, the New Express Daily reports.
Kang was enrolled in a college in Guangzhou as a business administration student in 2008. However, after discovering that he wasn't very interested in his chosen field of study, he left and returned home to look for a job, during which time he taught himself many useful I.T. skills. Urgently in need of money, Kang stumbled upon the knowledge that he could make money by building a porn website and charging subscription fees.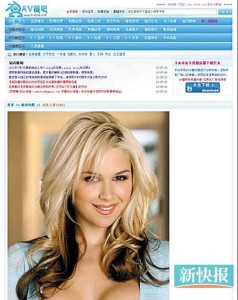 After building the website, he took many pictures and videos from other porn websites. At its peak, the website had 27 special columns of different categories of sexual activity for users to choose from. Yet knowing the website had to rely on outside servers, he contacted a web manager in Chicago. Building on his early success, Kang was about to rent six more domain names overseas to enlarge his business, but was thwarted by police.
The website reached 13,000 visitors per day, and earned Kang RMB27,800 from advertising and subscriptions.
This episode recalls the British blogger who named herself Belle de Jour who put herself through university by working as a call girl.