Drunk woman passes out in the street, pet dogs protect her
Posted: 02/13/2012 8:15 am
On February 4 in Guangzhou's Yuexiu district, a woman walking alone but too intoxicated to walk any further, passed out on the sidewalk and began vomiting. The two snow-white pomeranians accompanying her at the time then stood guard to protect their owner. New Express was tipped off and got a reporter to the scene.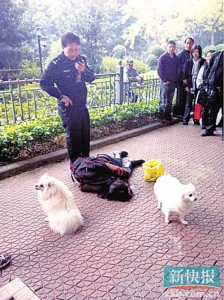 The newspaper talked to one of the passersby, Ms. Tang, who came across the woman at around 5:30 p.m. that day, finding her already lying on the pavement and struggling, unsuccessfully to stand up. Soon after, the woman vomited off to her side.
"She smelled strongly of alcohol, it looked as though she'd had too much to drink." Tang called 120.
Meanwhile, the two dogs refused to let anyone approach their owner, even biting at police who arrived shortly after. "Pedestrians walked up," Tang said, "and the dogs stared at them until they moved away."
The woman's two dogs then became the story, online and in print. Further, other bystanders reported that once an ambulance arrived and emergency care attendants sought to help the woman up, her dogs finally backed down, seemingly aware of what was going on.
The UK's Daily Mail has reported on one study which found that a dog's IQ is approximately equal to that of babies between 6 months and 2 years of age. While it might help to bring your dogs along on your next bender, toddlers are best left at home.