Fake Designer Bag Workshops Thrive in Guangzhou, Protected by Officials
Posted: 05/9/2014 10:24 am
A single workshop hidden in a supermarket deep in a back alley in Yongtai Village in Baiyun District is responsible for producing more than 100 fake Prada bags per day, and sells over 3,000 fake Prada bags every month, reported the Guangzhou Daily after conducting an investigation into several of Guangzhou's fake designer handbag workshops.
To put these figures into perspective: In just one factory alone, approximately 30 workers in a single 200-square-meter workshop are responsible for creating revenue worth millions of yuan each year by production of these knockoffs.
READ: Fake Hermes Factory Busted, Ring Leader Given Life in Prison
In the same village, a police raid tipped by the newspaper led to the seizure of 42 finished Prada handbags, 60 semi-finished bags, 300 metal products and 250 labels. However, the confiscation is believed to be much smaller than the total number of counterfeit goods. When the officers' car pulled over near the workshop, several lookouts had allegedly warned the workshop by phone, giving the workers enough time to pack away the main stacks.
The workshop has 10 work stations, and each has 25 assembly lines, the report said. In contrast to the other workshop, it did not specify this particular workshop's production capacity.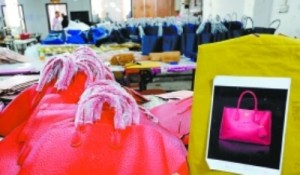 In Xinyang Village in Huadu District, a workshop was busy producing highly authentic-looking Chanel bags. Workers here have clear divisions of work. Workers on the second floor were cutting large chunks of leather into small pieces, while the ones on the third floor were gluing labels onto the bags. The reporter discovered that all the products were transported to Tianhong Leather Market 918 by tailing the workshop's loaded cargo trucks.
One worker named Liu Wei (a pseudonym), who had worked in a similar workshop in Huadu for more than 10 years, told the newspaper that the workshops often first obtain sketches from an intermediary website, and then skilled workers like Liu begin to train junior staff on production techniques before manufacturing.
The process of making the bags often begins with study or research, and ends with pounding metal hardware into leather bags, the last and most important procedure, Liu said. Only a few are allowed to work on the last step, he said.
RELATED: Knock-Off Mobile Phone Makers Run Into Trouble in Shenzhen
According to Liu, the knockoffs are categorized into several grades with AA grade being the best, and then followed by A grade, B grade, and C grade.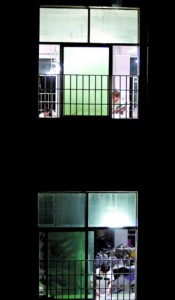 AA grade goods are strictly manufactured based on the real deal, sticking to the "1:1" principal.
A knockoff rated at A grade bears 95 percent resemblance to the authentic product. Most of the A grade counterfeit workshops are located in Yongtai, Jiahe, Yonghe in Baiyun District, and most of the products are distributed in Baiyun leather market.
B grade goods bear 90 percent resemblance to the real one, and most of the workshops are in Shiling, Huadu and are mainly sold in Sanyuanli leather market.
Wang Jun, who runs a workshop in Yongzhou, says he produces highly authentic designer handbags. He told the newspaper that an A grade or Extra A grade bag can sell between RMB 2000 and RMB 8000.
RELATED: 140,000 Fake Viagra Pills Seized in Shenzhen
Workers producing highly authentic bags earn a monthly salary of RMB 5,000; some can make close to RMB 10,000 a month. Police raids to these knockoff workshops are frequent, but often are only halfheartedly enforced. Wang said it only cost around RMB 100,000 to restart the business after a police visit.
Chen Tan, dean of Guangzhou University's public management department, told the newspaper that local economic GDP growth is probably one of the reasons fueling the illicit trade.
"In some morbid way, several regions are actually encouraging their 'knockoff reputations' in order to sustain GDP growth and other complicated interests. They let the trade develop as it is, and some have developed into highly authentic knockoff villages. We do not rule out the possibility that some lower-tiered officials are protecting the local workshops," Chen said.
It's unknown how much money the knockoff bag trade is contributing to Guangzhou's GDP. But based on the ubiquity of seeing counterfeit bags at the city's leather markets, we can extrapolate this amount to not be insignificant.
Also read:
Report Uncovers Unlicensed Stores Selling Smuggled Fake Over-the-Counter Drugs
Phew! Images of Disemboweled Tiger in Guangzhou Were Fake
China, Land of the Fake…Policeman?
26 Tons of Inedible "Fake" Sale Seized in Guangzhou
Photos: Guangzhou Daily