Guangdong-Singapore smart transit card launching 2014
Posted: 08/22/2013 10:04 am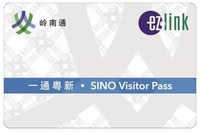 A new dual-currency transit card, which will work in Guangdong Province and Singapore, is set to launch in the first half of 2014 under the name "SINO Visitor Pass".
In Guangdong, the service will be operated by Guangdong Lingnan Pass Company, and will be able to hold credit in both Renminbi and Singapore Dollars. This will be especially convenient to travellers such as businessmen that regularly pass through both regions.
"This means that in the future, visitors can also gain access to tourist attractions, food & beverage, retail deals and other lifestyle applications [at over 100,000 points] in both countries with this pass," said CEO Nicholas Lee of EZ-Link in a statement. EZ-Link will provide the service in Singapore.
The card was unveiled at the fifth Singapore-Guangdong Collaboration Council (SGCC) in Guangzhou today. Its use may eventually be expanded to other areas of China.
Singapore's Minister for Transport Liu Tuck Yew said: "We have a strong and mutually beneficial partnership with Guangdong. As Singapore companies contribute to Guangdong's economic transformation, Singapore is also seeing strong number of Guangdong tourists and businesses here."
Liu added: "Last year, we received 266,000 Guangdong tourists; this is about 15 per cent of total Chinese visitors to Singapore. In the same year, 12 Guangdong companies with a combined investment of US$240 million (S$306.4 million) set up presence here. We are pleased with these positive developments and hope to do more with Guangdong."
Kaushal Parikh, based in Singapore, told The Nanfang today: "A survey revealed Singapore as the No.1 destination for Chinese tourists. So this will help boost trade and ties, and ease to tourists."
The new card isn't the only dual-currency card on the market.  Shenzhen Tong and Hong Kong's Octopus have also teamed on a single transit card that can be used in both locations. It stores both RMB and Hong Kong dollars.
Photo credit: EZ-Link