Thousands strike at Nike, Adidas, Reebok factory in Dongguan over invalid contracts
Posted: 04/7/2014 9:02 am
Thousands of workers took to the streets on Saturday at a shoe making factory in Dongguan under the Taiwan-based Pou Chen Group when workers discovered that the factory has cheated them by using invalid contracts and signing up long-term workers with temporary staff social insurance schemes.
Yuyuan shoe factory in Gaobu Town in Dongguan is the biggest shoe making factory for more than 30 world famous sportswear brands such as Nike, Adidas, Reebok and Salomon. It has been operating in Dongguan since 1998 and currently has more than 60,000 workers, China News reported on April 5. It was also the factory where basketball legend Michael Jordan visited in 2004 on a China tour.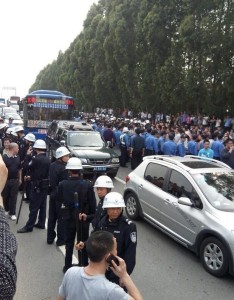 One of the workers surnamed Li said he had been working in the factory for more than 10 years and was on a permanent work contract, but when he used the work contract as a proof to enroll his child into a local school, he was told the contract was not legally binding. Many other workers also reported similar instances, the report said. Migrant workers in Guangdong must present documents proving their long-term residency in the province, consecutive five-year records of social insurance fees, and one-child policy certificates in order to enroll their children into local schools, according to article 27 in the province's laws managing migrant workers.
In addition to cheating workers by using invalid contracts, workers discovered that many of their social insurances schemes were downgraded to temp staff packages. According to the report, the downgrades were not only discovered in one of Yuyuan's factories, but several other factories under Yuyuan as well. Workers had been negotiating with the factory, but nothing fruitful had come of it. It eventually escalated into Saturday's protests.
Meanwhile, insurance standards in the factory also vary, according to the report. One of the workers surnamed Jiang said she paid more than RMB 40,000 ($6,440) for her insurance package, while another worker, who enrolled in the factory around the same time Jiang did, only paid a little over RMB 10,000 ($1,610). It was unclear what kind of packages Jiang or her coworker were entitled to.
One person in charge of one of the factories at Yuyuan declined to comment and said the factory is scheduling another round of negotiations with workers on April 14. The factory's production has so far been uninterrupted by the protests.
Home page and content page photo credit: Net Ease