Stir It Up Bar & Grill Offers Cheap Beer and Familiar Tastes in Dongguan
Posted: 06/17/2014 1:10 pm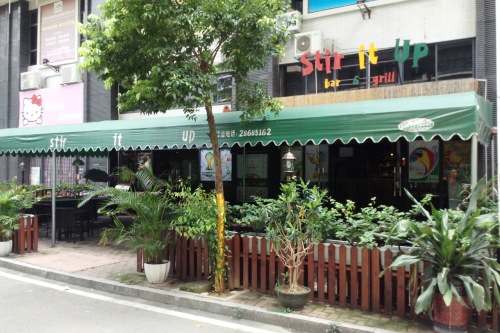 Hidden away off Hongfu Road, behind Wal-Mart, and down a side street is Stir It Up Bar & Grill.
The bar, decked out all in wood, has pool tables upstairs and outside, a foosball table downstairs, and a darts board in the corner. On the walls between tribal art there are posters of Bob Dylan. You Can't Always Get What You Want by The Rolling Stones plays on the sound system. It does not take long to realize that Stir It Up is more like the bars in backpacker hostels in Southeast Asia than expat pubs on "Bar Street" in Dongguan.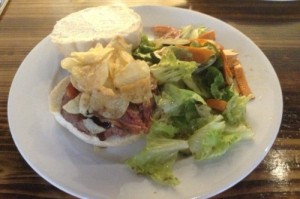 It was empty on the Sunday afternoon that we visited Stir It Up, but we decided to sit down and order anyway. Looking at the menu you can find the same sandwiches, salads, and pastas that you can find elsewhere, but what catches the eye is the choice of burgers. There are sixteen from which to choose, including The Mama Mia topped with salami and tomato sauce, The Honky Tonk Burger with bacon and onion rings, and The Slammin' Salmon. After much deliberation and after reading the inventive names and funny descriptions, I picked The Couch Potato with a side of chili cheese fries.
While there is certainly a better range of beer provided at other bars, few offer drinks as cheap as a pint of Asahi at Stir It Up for only RMB 20. There is also a long list of cocktails, but it was still too early in the afternoon to test the bartender's skills.
As I read the funny posters on the walls our food arrived. The fries were freshly cut and the chili, while more Chinese-style than American-style, gave the meal a real spice. The Couch Potato burger was big, but not so big that I didn't know how to handle it. The beef was juicy and it was generously topped with bacon, potato chips and blue cheese.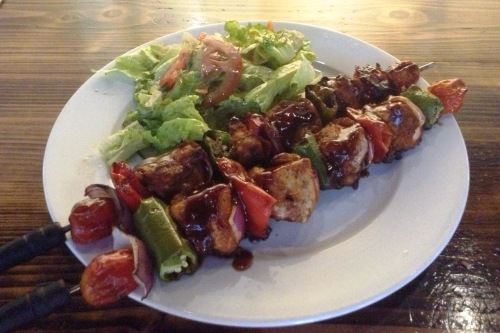 My friend ordered the kebabs, which looked delicious. Their spiciness, however, means they aren't for the faint-of-heart. My friend battled through the meal, but that is perhaps a testament to how tasty the kebabs were.
With good food and cheap beer on tap, Stir It Up is one of the better bars outside of the bar street in Dongcheng. If you are looking to mix it up and try somewhere new then you could do a lot worse than checking out Stir It Up Bar & Grill.
For more details on Stir It Up Bar & Grill, please check out our listings.