Posted: 05/20/2014 12:12 pm
The recent rain in the PRD has been dreadful, but the sun took time to come out on May 18 when Chimelong Water Park kicked off its 7th Annual 10,000 Bikinis event.
The focus of the event was a leaping dolphin comprised of several hundred bikini-clad women.
Last year's event had used the gathering to draw "2013″ using the silhouette of a snake, the animal totem for last year's zodiac. Being an unpopular year and avoided by pregnant mothers, next year's animal zodiac, the sheep, is likely never going to be associated with anything sexy.
RELATED: Bikini Babes Gather for Scantily-Clad Photo Stunt
at Guangzhou Water Park
Anyone thinking that this is simply bush league should make note of the foreign models in attendance who took time off from hiding when a crackdown on improper visa use targeted the industry weeks ago.
We've included a number of photos of the event for inquiring minds…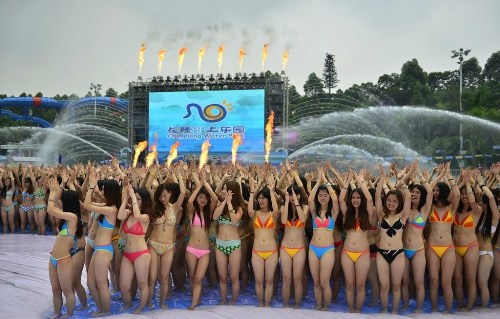 PHOTOS: Bikini-Clad Beauties Advocate the Use of Breast Milk
at Hong Kong Border
VIDEO: Bikini-Clad Shenzhen Girls Call for "Rational" Protest
Against the Japanese
And here's the snake rolled out from last year's event: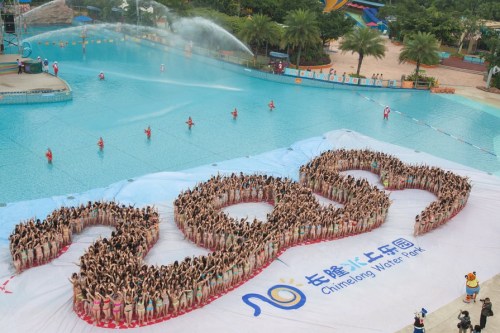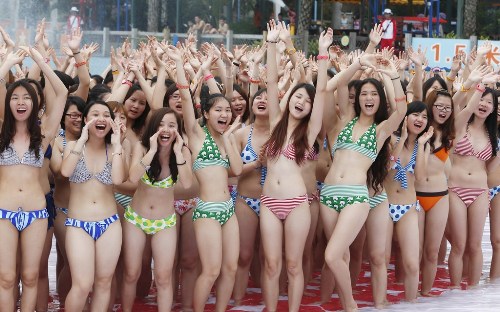 Related:
Dongguan Plumber Proposes to Girlfriend in Bra and Panties
Photos: QQ, Yancheng Evening Report, iFeng