Posted: 05/16/2012 10:17 am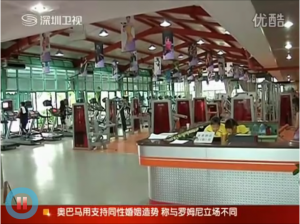 There's a run-of-the-mill "Peeping Tom", and then there's a sophisticated video monitoring installation.  Women at a gym on Hainan Island have found themselves victims of the latter.
An estimated 20 hidden cameras have been found in a women's changing room in a gym in Haikou City, capital of Hainan Province. A male member of the Xiandai Gym was reported to police after trying to blackmail three women with footage of them taking showers and changing clothes. The third of the three women went to police.  
The gym is estimated to have more than 1,000 female members, all of whom use the changing room. A user identified as Mrs. Wang told local television that she noticed the cameras when she looked at the roof while in the changing room. 
The member who installed the videos joined the gym in September 2011. Women have blamed the gym's management and security system for allowing the man to gain access to the women's changing room. The gym is yet to give an explanation and the manager cannot be reached for comment.  
Netizen c7680 opined that it was probably an inside job because an outsider would never be able to gain access to the changing room of the opposite sex. Another user blamed the manager for allowing "unsuspecting women to become yellow movie stars." 
This obviously isn't the first time hidden cameras have been found.  In July 2011, a camera was installed in the women's toilet on the third floor of a Guo Anju store in Bao'an District, Shenzhen.  The explanation? The store claimed the camera was installed to monitor the saving of water.