Armed Police to Keep Foshan Gaokao Exams Quiet From Dancing Grannies [UPDATE]
Posted: 06/5/2014 3:03 pm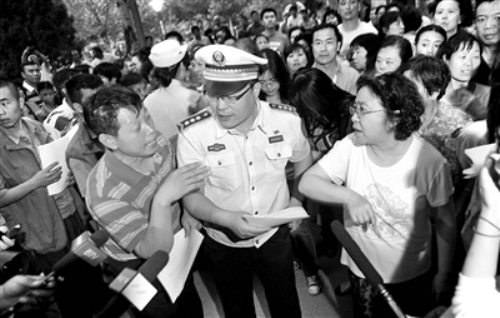 Examinations for high school students applying to enter university, colloquially termed the "gaokao",have  recently gotten some unexpected support. A representative for gaokao enrollment for Foshan states that every gaokao examination in the city will be accompanied by armed police officers, reports the Southern Metropolis Daily.
As students take the examination, they will be accompanied by two police officers with guns that will be stationed at every examination room. Furthermore, armed police will patrol the perimeter of the examination sites and investigate anything within a distance of 200 meters.
READ: Student in Guangzhou Stabbed in Throat Just After Completing the Gaokao
This may seem excessive as gaokao examinations can be counted upon to be the most quiet of places that would ever be the site of a disturbance, but that's actually the point: Police may sent to the gaokao exams for the purpose of preserving the peace, literally.
Over in Fengtai District in Beijing, chengguan had given a written proposal to the "dancing aunties" that dance in a plaza located next to the No.12 Middle School. The chenguan, otherwise known as city management workers with a bad public reputation, had requested the "dancing aunties" stop playing loud music in the square and dancing so as not to disturb the 400 students preparing for the gaokao .
READ: Netizens Outraged as Chengguan Beat Mother in Front of
2 Year-old Child in Guangzhou
The proposal was rejected. The dancing grannies, estimated at two to three hundred strong, continued to dance once the chengguan had left.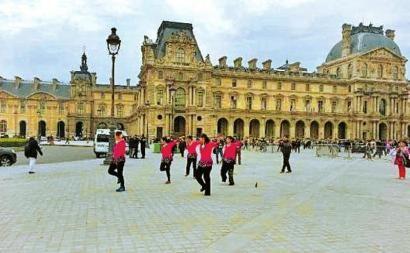 "Dancing grannies" have been a formidable force in Chinese society that many residents have taken offense against. "Dancing grannies" are known for disturbing of the public with the loud music played during their dancing, and have come to prominence with a picture of them performing in the square in front of the Louvre.
Locally, the issue of "dancing grannies" had come to light recently when the mayor of Sydney expressed interest in the activity during a visit to Guangzhou, to which an overwhelming majority of Chinese netizens responded with "Take them all, please."
READ: Mayor of Sydney Interested in Importing China's "Granny Dancing"
We imagine that armed police will be able to help preserve the peace at a gaokao examination, and perhaps by being armed, police will be able to win any arguments had against "dancing grannies".
UPDATE 3:30pm, June 5, 2014: It's become official: Shenzhen has now put noise restrictions upon any area within 500 meters of an examination site during this weekend, and during the upcoming senior high school examinations taking place on June 21 and 22.
While dancing grannies may be affected, the noise ban seems to be more directed at construction sites, putting a RMB 30,000 fine on any site that violates the regulations.
Related:
Photos: Xinhua, the Nanfang