British retailer Topman to launch in China with its first store in Shenzhen
Posted: 08/29/2012 3:41 pm
Riding high on the clothing trail, the team behind Topshop's successful debut in China is preparing to unleash Topman to eager shoppers in Shenzhen.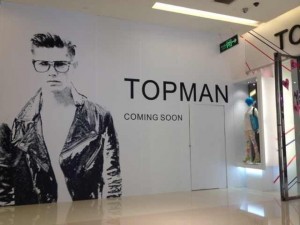 We're told the new store is due to launch on September 28, if not at the start of Golden Week on October 1 to take advantage of holiday sales.
The new Topman, opening next door to Topshop in King Glory Plaza, fills an important hole in the market.  In order to get the go-ahead to launch, it had to overcome trademark issues earlier in the year.
Topshop launched to much fanfare in May, but some fans had to leave with empty bags as the store only stocked female fashions.
Britain's Arcadia Group, which runs the two franchises, is focused on the Mainland market.  It is testing the popularity of the brand with pop-up concept stores it goes against the trend of rival retailers, such as Abercrombie & Fitch, launching their presence in China with flagship stores in Hong Kong.
Also on the Nanfang: