Eight Dead as Guangzhou Pulverized by Flooding and Landslides [PICTORIAL, UPDATED]
Posted: 05/23/2014 5:00 pm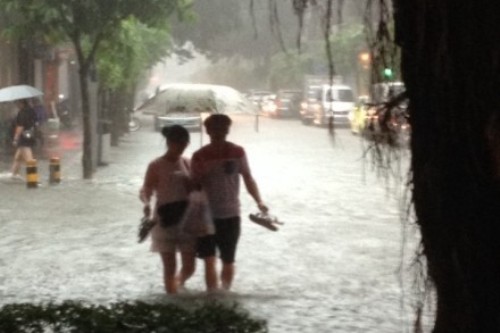 UPDATE 2, 8:48pm May 23, 2014: Six people are confirmed dead after getting caught in a rain-triggered landslide in the village of Longshi, Heping County, Guangdong. Initially, the incident left two dead, two injured and three missing; however, three victims recovered today had passed away as had a victim taken to hospital.
Meanwhile, two people are reported dead in Huaiji, Zhaoqing in a landslide that also injured three children.
UPDATE 1, 5:20pm May 23, 2014: As of 4:49pm, delays have been reported at the Guangzhou Baiyun International Airport lasting at least an hour for 64 flights; additionally, 14 outbound flights and 19 inbound flights have been cancelled. As such, an airport blue alert has been issued. The customer hotline for Guangzhou Baiyun International Airport: 020-3606 6999
***
A torrential rainfall has made Conghua District in the City of Guangzhou a disaster zone as a red alert weather warning continues to be in effect for the area as of 2:12pm today.
Wenquan and Liangkou County are among the worst hit areas by the storm with some residents reporting water and electricity have been cut off. The villages of Daxi, Shiling, and Xitou are said to be particularly affected, including Wenquan Middle School.
Many roads have been blocked as flooding and landslides have occurred throughout the area. A landslide is reported to be obstructing a 1 km stretch of the #355 County Road from Jinyezi Hotel in Zengcheng to South Kunshan with both lanes blocked. Elsewhere, flood waters reported as high as 80cm are blocking major six lane roads.
Nanfang College at Sun Yat-sen University has been hit particularly hard by the rainstorm. Several buildings and streets of the campus have been by flooded. Two sinkholes have been reported to have opened up in the school, one taking place in front of dormitory H24. Pictures depict the flooding of dormitories. University students were initially told to remain where they were and wait for flooding to subside, but have now all been evacuated.
This is what the storm looked like yesterday afternoon in Guangzhou, bringing the night to the day:
And here's a view from Dongguan: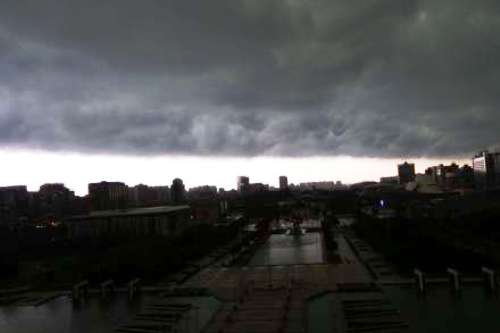 Photos: Guangzhou Daily Report via Weibo (2), People's Needs of Zhongda Nanfang School Weibo, Guangzhou Conghua Police via Weibo, Nanfang Report via Weibo, Yangcheng Evening Report via Weibo and Jinyang Network, Beautiful Flowers of Dongguan via Weibo