[Photos] Guangzhou Flooded (Again) from Heavy Rainfall [UPDATED]
Posted: 06/24/2014 11:26 am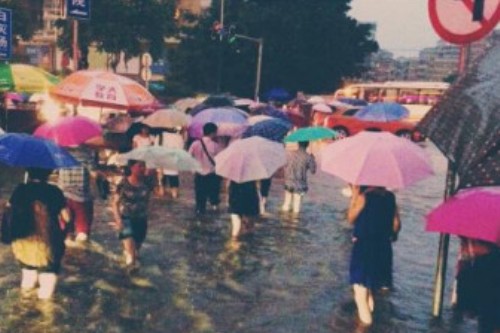 Widespread flooding has been reported throughout Guangzhou after a red alert for a torrential rainfall was issued yesterday.
There was a rapid progression of the intensity of the precipitation, reports MSN. A yellow alert that was posted around 6pm by the Guangzhou Meteological Society was quickly upgraded to orange within an hour, and then became red at 7:53pm, Guangzhou's first of the year.
The red alert was taken down at 10:22pm.
Heavy rain hit many parts of the city, including the Districts of Yuexiu, Liwan and Haizhu. Roads reported flooded include Guangzhou  Boulevard North, Zhongshan Eight Road, and Tongxin Road.
The Haizhu weather station recorded a rainfall yesterday of 176.2mm, the highest in the city. Second-highest was Liwan District with a recorded rainfall of 137.1mm, and then
Yuexiu District with 136.9mm.
Flooding was reported to have hit dormitories and the cafeteria at Guangdong Foreign Languages and Trade University (Baiyunshan Campus), leaving some 60 students without a place to stay. As well, flood struck Guangzhou Railway Station and forced the cancellation of 18 trains.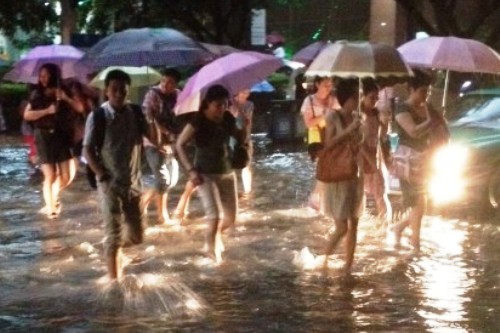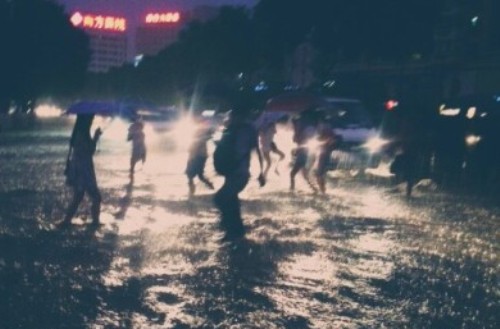 Related stories from this year alone:
UPDATE 12:06pm June 24: Added a few more details to the body of the text.
Photos: Yangcheng Evening Report, Southern Report, Guangzhou Live, Sina Guangdong, Guangzhou (2)