Guangzhou's RMB 400 Million Infrastructure Upgrade Goes Down the Drain
Posted: 06/26/2014 8:55 am
The Guangzhou government is under fire after some districts in the city were unable to handle torrential downpours despite a RMB 400 million upgrade to the city's drainage systems, leaving the city's transportation system partially paralyzed after this week's heavy rainfall, New Express Daily reported.
[Photos] Guangzhou Flooded from Heavy Rainfall
Many trains from Guangzhou to Changsha were operating under reduced speeds while 26 departures were suspended on June 24 after rainstorms pelted the city since Sunday. The city issued a red alert for torrential rains on June 23. In the city's Haizhu District, a rainfall of 176.2mm was recorded, the highest in the city.
The Baiyunshan area around the Guangdong University of Foreign Studies and the Nanhu Street area in Haizhu District were both heavily flooded even though the local water bureau had pumped in RMB 11.69 million to upgrade the underground sewer system in 2011. Construction was completed in October 2012.
According to the bureau, the drainage problem on Congyun Road, South Road and Jiade Bus Station around the university was solved after the project. However, many buildings on the university campus were flooded by water after the Sunday rainfall, the report said.
The same thing happened to Nanhua Street in Haizhu District after the government allocated RMB 3.1 million to fix the sewer system. After last weekend's rainstorm, the clogged waters reached knee-high level in some low-lying areas, the report said.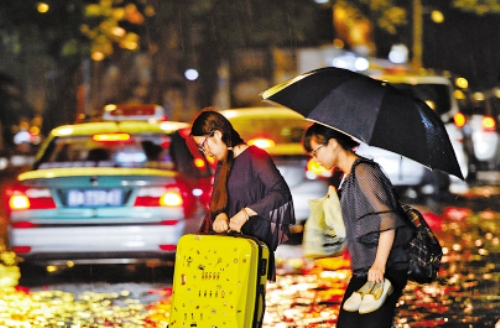 All told, Guangzhou has spent a total of RMB 400 million on improving its drainage system in the last three years, but images of the city after the rain showed cars, buses, parking lots and residents mired in deep water.
Taiwan scholar You Yingtai famously proposed for a country to be judged as developed or not by its drainage system. The same can go for a city. If a city is flooded with standing water and the shop's tea pot is floating in the middle of the road and used for catching fish, this is probably not a developing city.
Here, one's trousers are wet without being muddy; road traffic is slow but not at a standstill. By this measure, Guangzhou, an export-driven powerhouse, is still a developing city, trying to to wade out of the flood waters.
Related stories from this year alone:
Photos: Yangcheng Evening News