Posted: 08/8/2014 10:25 am
Of all the street foods that beckon as you pass by, it's the stinky tofu that calls out the loudest. It may be offensive for those who have never tried it, but its aroma is sharper than any other food.
For one Wenzhou man, however, one plate of stinky tofu was almost his last. Fifty-two year-old Mr Su was hospitalized after he suffered major organ failure and fell unconscious for a week as a result of eating the popular street food, reports the Wenzhou Daily.
One day at the end of June, Su bought some stinky tofu to take home with him for dinner. Around 11pm that evening, Su started to have stomach pains, followed by diarrhea and vomiting. Su thought he had sunstroke, and decided to stay home rather than pay for a hospital visit. Instead, Su drank boiled water and decided to rest. The next day, though, things had gotten so bad his roommate took him to the Wenzhou City Center Hospital.
At this point, Su was very dehydrated. His blood pressure had fallen, and he had a core temperature of 40 degrees Celsius. By noon, Su suffered from acute failure of his lungs, liver, kidneys, and blood circulatory system.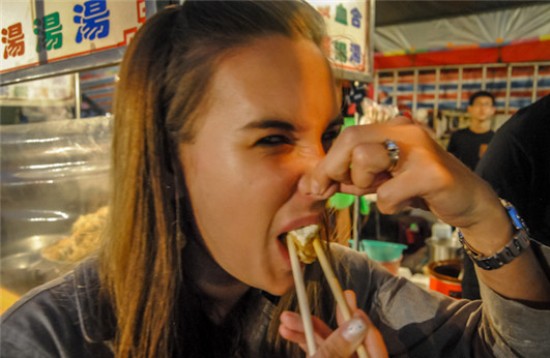 Doctors at the hospital said that if he received treatment a half day later, he would be dead.
Su regained consciousness a week later but needed an entire month to fully recover. His medical bill was RMB 150,000.
The doctor said stinky tofu was the culprit, adding the serving Su ate probably contained an enormous amount of bacteria. Doctors said the tofu was likely contaminated by feces in sewer water.
When asked if he had suspected anything wrong at the time he ate the tofu, Su said:
The stinky tofu was the same as usual. I couldn't taste any thing wrong with it.
We can't really fault Su for not being able to tell good stinky tofu from bad stinky tofu. They both appear to smell just the same.
***
UPDATE 11:33am August 8: This post has been altered to reflect on the fact that Su had a fever when he was first taken to the hospital.
Photos: meishixing, travel.cnr