Last weekend was notable for its spectacular electrical storms.  I had the rare pleasure of flying directly into the storm Sunday night on a flight back down to the PRD from Beijing.  The flight was 90 minutes late as the pilot did his best to circle around the storm, but it didn't appear that way when looking out the window: bolts of lightning lit up the clouds on both sides of the aircraft, drawing gasps from people on board.  That's not to mention the turbulence, which resembled riding Big Thunder Mountain at Disneyland.  Several passengers let out screams as the plane bounced roughly through the storm.
One guy in Guangzhou sent a photo of the lightning striking the Guangzhou TV tower to the Life of Guangzhou, and you can take a look at the pic here: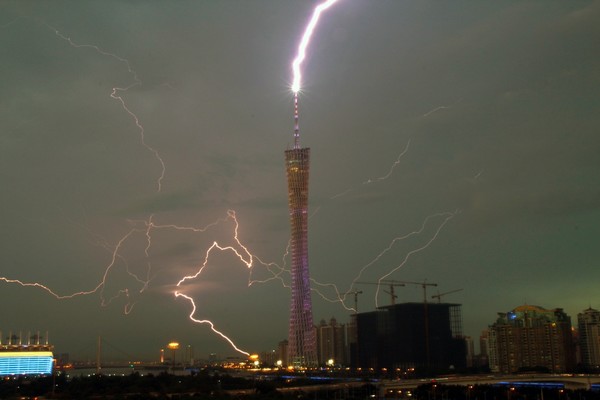 Meanwhile, more of the same is expected in the coming days.  It's the pleasure of living in the tropics, right?  The Shenzhen Standard says the wet weather is just getting started, as we inch closer to typhoon season:
The Shenzhen Meteorological observatory … issued a red alert warning. This indicates that no heavy rain will be hitting in the next six hours. Shenzhen will only be experiencing occasional showers, and cloudy weather. The heavy rains caused more than a hundred flights coming and going from Shenzhen airports to be delayed.
Four helicopter flights that were supposed to fly to Macau were also cancelled. The rains also signal the start of the flood season. The center said that the heavy rain yesterday drenched most parts of southern China bringing relief to the drought affected regions.
The meteorological center is also tracing a tropical storm, the second one to hit the city this year. Tropical storm Songda is forming in the northwestern Pacific Ocean yesterday morning. The storm will be moving northwest at 15 kilometers an hour but will not reach China ocean area for the exit three days.
Make sure you keep your umbrella close by.