Spoofed Google Page Calls On Chinese People To Fight The GFW
Posted: 06/13/2014 10:31 am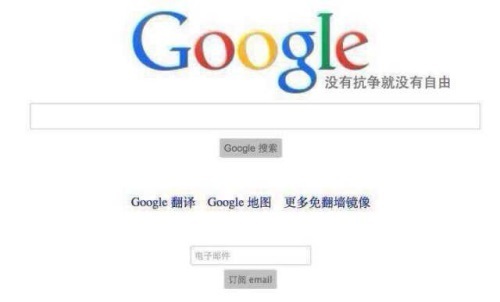 An image of a Google search page that is spreading like wildfire on Chinese social networks is openly encouraging Chinese internet users to protest against internet censorship in China.
Google is not behind the campaign, however. It's a campaign launched by GreatFire.org. It reads as follows [translated from Chinese]: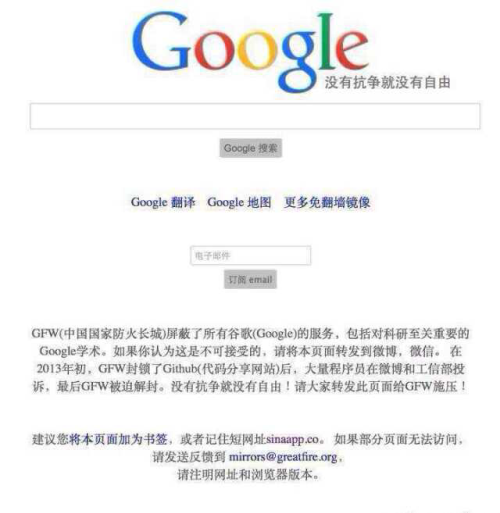 Google
If there is no resistance, then there is no freedom
The GFW (The Great Firewall of China) screens and hides all services provided by Google including scientific research important to Google academics. If you feel that this is unacceptable, please forward this page on your Weibo and WeChat accounts. At the beginning of 2013 when the GFW closed off access to Github (code-sharing websites), a majority of programmers complained on Weibo and in work correspondence letters until finally the GFW was re-opened. If there is no resistance, there is no freedom! We request everyone to please forward this webpage to put pressure on the GFW!
We recommend that you please add this to your web browser bookmarks, or to please remember the URL address sinaapp.co. If there are some webpages that cannot be visited, then please send your feedback to [email protected] and please specify the URL and current version of web browser used.
Another similar version of this webpage can be seen here, and substitutes the URL address as 1kapp.co.
Google services were most recently targeted in China just before the anniversary of the Tiananmen Square incident, reports Bloomberg.
The company's online presence has been censored in China since 2010 when it announced it would no longer comply with government regulations and redirected users to its Hong Kong site.
Correction: An initial version of this story claimed that Google was calling on Chinese people to fight the Great Firewall. That is incorrect. Google is not involved with this campaign in any way, to the best of our knowledge.
[h/t @missxq]
Photos: Google