Guangdong Storm Round-Up: Deadly Rain of Terror to Continue
Posted: 04/2/2014 3:32 pm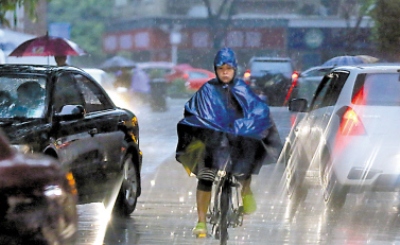 Here's our round-up of some Guangdong and specifically Shenzhen rain-related stories from the past couple of days:
The number of deaths caused by the storm throughout Guangdong has risen to 14 as of this morning with 3 victims still missing, reports SZ News. The government states that a total of 3,902 people have been evacuated, and the economy is estimated to have suffered a loss of RMB 199 million.
The storm is the cause for the sinking of three fishing boats, leading to the death of one person and the disappearance of another.
Shenzhen Bao'an International Airport reports that there are currently no more delays and that all of its flights are back on schedule. This is after the airport had issued its first ever red alert for delays, leading to the cancelling of over 200 flights and the rerouting of over 100.
What's On Shenzhen reported that the 250 passengers of a Dragonair flight re-routed to Shenzhen from Hong Kong were forced to remain in the parked plane overnight. One passenger had said, "We were on the tarmac from 10 p.m. last night to 7 a.m. this morning. Passengers were told to leave the plane and find their own way to Hong Kong without any stipends for travel."
Additionally, a Shenzhen airport spokesperson emphasized that the leaking at the airport is not as serious as reported on Weibo. The spokesperson stated that those pictures only show the parking garage, whereas there are only a total of over 20 leaks that have been counted in the roof of the new airport terminal.
Shenzhen has received an average of 125 mm of precipitation since the start of the storm, while the heaviest has been 318 mm. The most has been at Hongshulin Station, in which 115 mm of rain were collected within one hour.
Weather reports are saying that the rain, hail and wind will continue for the next few days. Stay dry, people.
Photo credit: Sznews.com