Nude street protest in Maoming wins reduced hospital fees for low-income family
Posted: 11/30/2011 2:07 pm
Photos of a family of four walking naked through the streets of Dianbai have created a stir online this week after the images were uploaded to a local forum in the city Sunday night.
It's said that the couple took their two daughters to the street out of desperation, to appeal to the public's help in paying off a remaining 1,500 RMB in hospital bills for their third child, a son born just two months ago.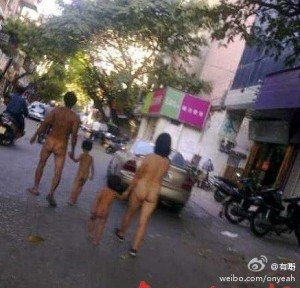 No story is complete these days without an online rumor counterpart; in its report on the protest, Yangcheng Evening News quotes one netizen as having written:
"I heard from a motortaxi driver that the couple are from out of province and, already with two daughters, gave birth to a boy at a hospital here not long ago. They say the baby was swapped with another, or it was abducted or something…they couldn't sue the hospital, so they all went naked to protest outside the police station and demand action be taken. The motortaxi driver wouldn't stop cursing out the parents, saying they shouldn't have brought the two girls along, that this sort of thing will damage a kid."
Other netizens expressed sympathy for the family.
A reporter for the newspaper called up a local official in Dianbai who confirmed that the nude protest had taken place, but denied the rumor that the couple had lost their son and then found doors shut in their faces:
"They took their sick son to go to the Dianbai county Maternity and Child Care Hospital (MCCH), where they ended up spending quite a bit on treatments. They couldn't afford to pay their bills in full, so they took their two daughters to go naked through the streets. They walked from the local Public Security Bureau to Dongyang street, ending at the busy Zhongxintai area, where they attracted many bystanders."
On Monday this week, one netizen posted details regarding the couple allegedly passed on by police to a local online forum, revealing that both the man, 50-year-old Zhang and his 37-year-old wife were both from Henan province. The police information confirmed that they have 3 kids. Three months ago, Zhang began a job recycling waste in Dianbai along with his family. A month ago, their newborn son took ill and was kept in hospital up until last Sunday, when Zhang, his wife and two daughters, decided to go protest naked as a way to obtain the 1,500 RMB needed for outstanding hospital bills.
That post ended with the claim that Dianbai MCCH has decided to waive the remaining fees and let the Zhangs take their son home.