Posted: 06/6/2014 12:29 pm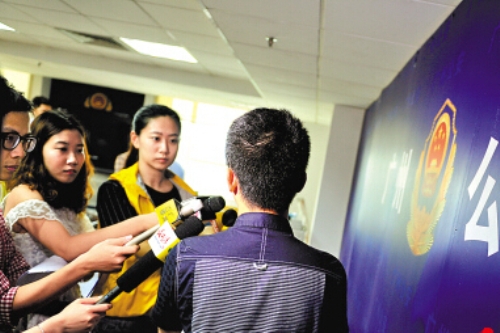 The "broken vase tactic" (碰瓷) is a notorious practice in which traffic collisions are staged in order to extort money. Feared by many Chinese drivers, this unscrupulous tactic has now found itself a new mark in Guangzhou—the drunk driver.
The public security bureau of Baiyun District, in conjunction with the Guangzhou police, have caught three members of an extortion ring that targeted drunk drivers by waiting for them at the front of restaurants, reports iFeng.
Two cases have come to light that showed this gang in action.
On March 6, Mr Chen and a client were out for a late snack near Wanda Hotel in Baiyun District; both men had been drinking alcohol. At 10pm, Chen got into his car and had started driving 300 meters towards Airport Road when he got into a collision with a black Toyota Camry. Exiting his car, Chen noticed that the front bumper of the Camry fell off. Chen later told reporters, "However, my own car didn't have any problems, and that's how I knew I was the victim of a 'broken vase' trick."
The four male occupants in the Camry all accused Chen of being drunk and demanded he pay RMB 30,000 in compensation. Chen refused, and called for the police. Chen had a sobriety test when the police arrived; judged to be legally drunk, Chen was charged with drunk driving. However, the driver of Camry continued to ask for compensation, suing Chen for RMB 9,000.
In another incident, Mr Lu, a company manager, was out dining at an eatery near Qifu Road on March 8 and had also been drinking. At around 10pm, after driving 100 meters from the restaurant, Lu was hit from behind by another car. When Lu got out, he saw that it was a black Toyota Camry with multiple people in it who all accused him of drunk driving.
Lu tried to flee the scene, but was closely followed by the black Camry. However, Lu lost control of his vehicle at Guangyuan West Road and collided with a flower pot road divider. Lu was beaten by the occupants of the Camry and demanded Lu pay RMB 60,000 in compensation. Ultimately, they alerted police who charged Lu with driving under the influence of alcohol. Due to a fight that broke out between the two parties, Lu and the driver of the Camry were taken back to the police station.
There, police identified the driver of the black Camry as Lan X Rong*, 30 years-old and originally hailing from Yingde, Guangdong. Lan was discovered to have been involved in over 10 accidents from November to December last year that were all collisions with drunk drivers.
Lan confessed to targeting drunk drivers to extort in a plan that started in the second half of 2013.
* X signifies information that was not published in the report
Photo: iFeng