Posted: 04/17/2014 10:23 am
"Clear-cutting" has begun on the forest built on top of a Guangzhou apartment building to hide illegally-constructed floors. Local chengguan and the owner of what has been called "Guangzhou's most 'niu' illegal building" have reached an agreement to start demolition on the treehouse penthouse, Nanfang Daily reported.
We're trying to imagine just what kind of negotiation took place as a source with the chengguan revealed the legality of the building was never actually determined. Instead, demolition was initiated since the owner was anxious Guangzhou residents couldn't see the virtual forest for the trees.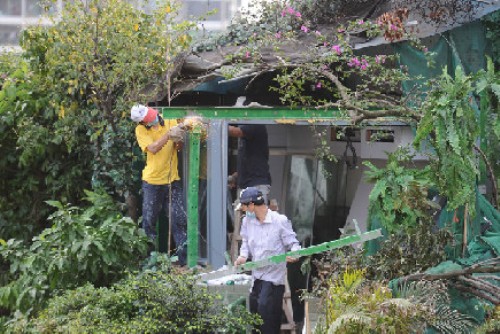 In a move that may further deter the promotion of Shenzhen rooftops as a green space, we note with bemusement that the colloquial name given by the Chinese press to this apartment is "big green hat". For those who have never been on the receiving end of this insult, "wearing a green hat" is the Chinese euphemism for  a "cuckold".
Located in North Haitangge Neighborhood of Tianhe District, we imagine Poison Ivy is currently cursing at the Caped Crusader and is plotting from another secret lair, perhaps from the rooftop temple located in Shenzhen.
Photos: Nanfang Daily, ChinaNews via bzcm