Posted: 07/3/2012 9:00 am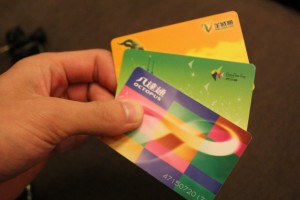 The days of filling your wallet unnecessarily with smartcards is about to end. Frequent public transport users around the Pearl River Delta will know how frustrating it is to carry multiple cards for our various well-connected public transport systems.
That is all about to change.
Starting July 18, Guangdong and Hong Kong are launching a new joint-smartcard eliminating the need for as many as four cards, uniting and simplifying the means of travel across the Delta.

The Nanfang told you last year how transport officials were set on a path to integrate Guangzhou's Yang Cheng Tong card with Hong Kong's Octopus and the Macau Pass card, and now it's finally happening.
The new smartcard has been developed to hold separate RMB and HKD accounts for each area, so users can't start using their HKD for mainland travel nor the other way around.  It will initially be available for use in Guangzhou and Hong Kong.
Users will be able to swipe for buses, taxis, ferries and metro services, and of course be able to purchase all manner of sundries in Hong Kong using the card.
The new card will cost RMB 80 or HKD 98 but users will still have to top up their card as it will come with no initial credit. No word, yet, on whether holders of individual smartcards will be able to transfer their balance over to the new card.
Life of Guangzhou has an interesting comment from a provincial official who provides more detail on the joint-card scheme:
According to Liu Xiaohua, deputy director of Guangdong Communications Department, as the LNT card will be accessible in cities like Shenzhen and Dongguan at the end of the year, the new card can be used throughout the province and Hong Kong, and even in Macau in 2013.
For those eager to get their hands on the new card sooner, a run of 3,000 limited edition cards will be available from July 2 for RMB 238 or HKD 298.