Posted: 12/25/2014 4:22 pm
When it comes to celebrating Christmas, Chinese do it in their own unique way. Celebrating the holiday has slowly caught on in China over the past decade, but it doesn't resemble the traditions the west would recognize. Family gatherings and big meals are reserved for Spring Festival, or Chinese New Year, while Christmas is taking up the spot associated with revelry, parties, and romance.
Gone are the familiar sights of the nativity scene, turkey and stuffing, egg nog, goofy seasonal sweaters, or mistletoe. In China, there are no cultural references of It's a Wonderful Life, A Christmas Carol, A Miracle on 34th Street, Rudolph the Red-Nosed Reindeer or Frosty the Snowman.
Instead, Chinese use Christmas Even as a chance to go out and have dinner with their friends, converge in public places, and find the "meaning of Christmas" (with Chinese characteristics, of course). For example, this boisterous party in Wuhan, Hubei:
In Kunming, Yunnan, the crowd got a little rowdy when people began to spray each other with fake snow:
As they did in Guiyang, Guizhou: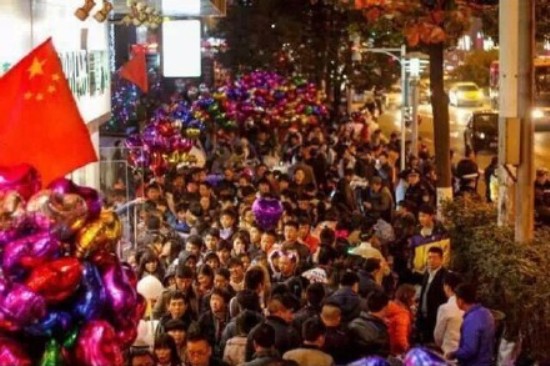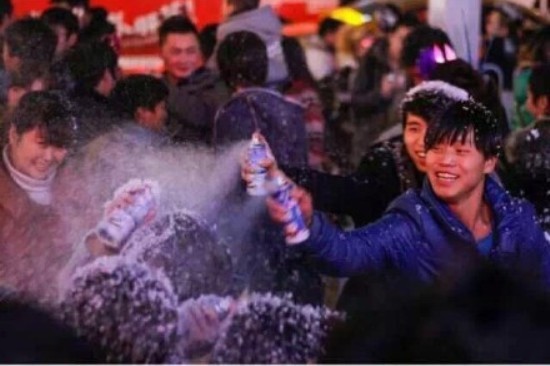 But the crowd to beat all others was in Chongqing: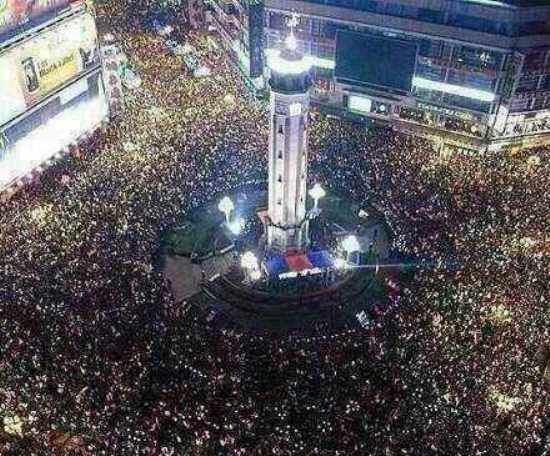 And then there's the social aspect of celebrating Christmas in China. Many Chinese find themselves under pressure to find a date for this social occasion. Christmas Eve is a dreadful occasion for Chinese that are single, many of whom who took to Weibo to commiserate.
Besides large crowds and hanging out with friends, Chinese have been finding their own new ways to celebrate the holiday. Since the Chinese word for "Christmas" contains a homophone for eggs, competitive eater Pan Yizhong decided to eat 160 eggs because it "seemed like an appropriate time to eat eggs." Pan took 40 minutes to quaff down 150 quail eggs and ten chicken eggs (below).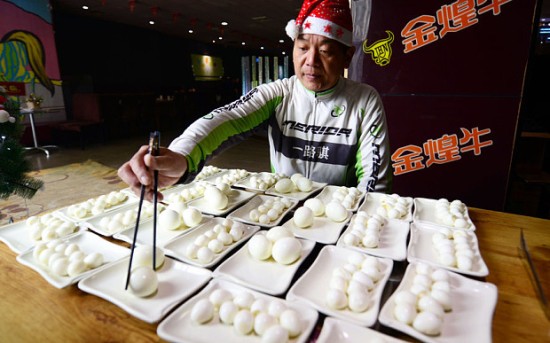 Eggs aren't the only food associated with Christmas. Apple also shares a homophone with the word "peace", and Christmas Eve is known in Chinese as the "Night of Peace". That means apples have become a popular gift at Christmas, complete with higher prices.
Meanwhile, Santa is generally well-known in China but there might be some confusion about his defining physical trait. A Weibo contest with the hashtag #FakeChristmasBeardContest encouraged people to send in photos of themselves wearing Santa's trademark white woolly beard. It started off like this: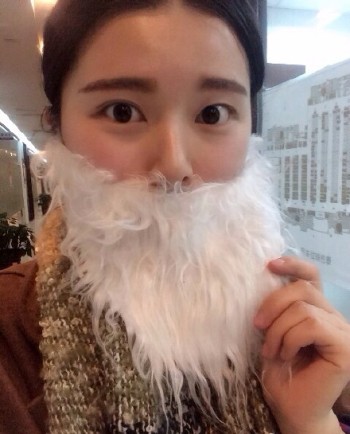 Then morphed into this:
In whichever form, Christmas still has its detractors in China. In Xi'an, a university disallowed its students to take part in any festivities on Christmas Eve, instead forcing them to watch propaganda films. Over in Changsha, Hunan, university students wearing traditional Chinese clothing carried signs denouncing Christmas at a holiday event (below).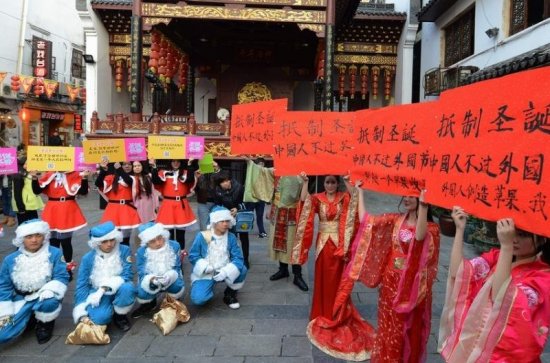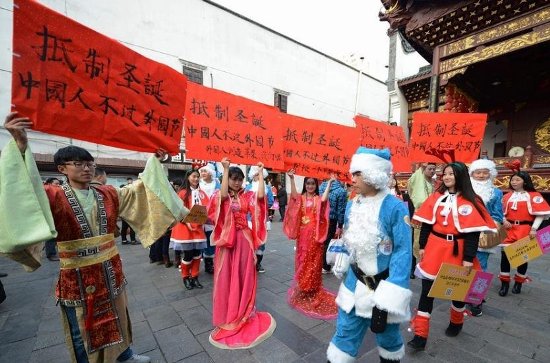 With all of these differences, Chinese culture may have lost out on the references that make Christmas what it is in the west. However, it's difficult to learn more about Christmas in China without its characterization as a rowdy holiday getting in the way.
The Shenyang Liaoning Evening Post sent out this Weibo post that purported to list 200 appropriate songs for Christmas Eve. However, anyone opening the file is instead confronted with these words:
Do you honestly plan to spend this night listening to songs?
Photos: 8099999 (2), Jingshi Live, Guizhou University, Tianjin Culinary Picks, Weibo (1, 2, 3, 4), QQ News, xywy, telegraph