Posted: 05/12/2014 2:02 pm
After the fanfare died down and athletes left the 2011 Shenzhen Universiade, the Shenzhen Sports Center suffered the ominous fate facing many national stadiums in China—abandonment.
But the Shenzhen Sports Center seems to have found a way out of this plight. It has converted its football field into a golf driving range and charges lofty membership fees to sustain its daily operation, Xinhua News Agency reported on May 10.
After first opening in August 2013, the golf club has attracted more than 500 members. Membership fees range from RMB 3,500 (USD 560) to RMB 11,000 (USD 1,800). Non-club members are also admitted as long as they pay for entry, the report said.
This financially-viable method adopted by the Shenzhen facility may prove to be a winning solution. In comparison, most of the sports venues built for the 2008 Olympic Games in Beijing have been left to rot and are heavily in debt. According to The Atlantic, it could take 30 years to pay off the $471 million bill for the Bird's Nest. The Water Cube, also known as the National Aquatics Center, lost about $1 million in 2011 despite public financing and the addition of a water park.
These two former Beijing Olympic venues are fortunate to be still in operation. The rowing and kayaking center, baseball arena and BMX track, however, have been left deserted or demolished as seen in a series of photos taken by Reuters' photographer David Gray.
However, a problem with the transformation of the Shenzhen Sports Center is that residents are angry the center is using taxpayers' money to serve a privileged few. The sports venue cost the government a total RMB 630 million (USD 101.2 million), and the residents are complaining that the few remaining football fields left in Shenzhen are increasingly being converted into golf courses.
The cultural bureau of Bao'an District in Shenzhen responded that turning government-funded sports centers into golf ranges does not violate any rules. The bureau said, "The state doesn't prohibit such an act, nor does it encourage it. This is somewhat a grey area."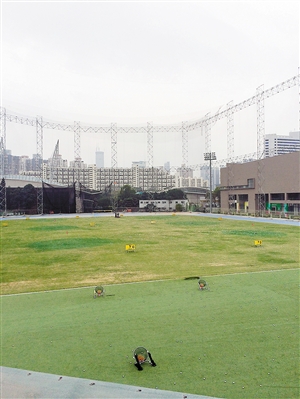 Since 2009, the sports center is no longer categorized by the local government as an enterprise unit (事业单位), and from then on was incorporated as an state-owned enterprise, the first of its kind in China. This means the center is responsible for its own financial losses and gains.
Liu Tong, head of the center's management department, told the newspaper that even though the center is fully booked for a year, the driving range is only able to earn at total of RMB 400,000 (USD 64,000). This amount is far from the total cost required for daily operation that includes employee salary, electricity, water and lawn maintenance, and as such requires government financial assistance.
In a country known for building excessive infrastructure and properties, Shenzhen's golf range solution may provide an answer to the country's empty stadiums and increasing numbers of uninhabitated ghost towns.
Don't be surprised if you start to see expensive golf courses springing up in Beijing and Shanghai's sports centers, after all, it is "somewhat a grey area".
Photos: Yangcheng Evening News, David Gray/Reuters