Posted: 02/20/2014 10:34 am
Say what you will about Xi Jinping, but he's become much more of a media darling in the country since his ascension in November 2012.
His predecessors were known for their stoic public images, perhaps nobody more so than Hu Jintao. Hu's contrived facial expression even stirred up speculation of facioplegia, the paralysis of facial muscles. Netizens even used "Hu Faciolegia" or Hu Miantan in Chinese to bypass the tightly scrutinized Internet when referring to him.
Xi, on the other hand, has earned himself a fan club on Sina Weibo called the "learning from Xi club". (Some suspect it to be a slick propaganda move.) The latest effort to portray him as a down-to-earth state leader came when the state media Qianlong Net,  run by the Beijing Publicity Department, debuted the cartoon version of Xi in an article titled "Where has president Xi's time gone?" on February 19. Clad in a grey jacket, with well-groomed hair, the chubby-faced Xi was seen with a sign in his left hand that says "Doing what I do basically means I don't have any time to myself."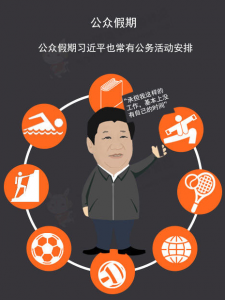 The report said since Xi's ascension to the country's top job, he has made more than 80 inspection and overseas trips while balancing a busy meeting schedule. He had traveled across five continents and 14 countries, it said.
In his downtime, Xi enjoys reading, swimming, football, volleyball, basketball, tennis, martial arts and among others, according to the newspaper.
Xi, however, is not the first Chinese leader to have cartoon images. China's former paramount leader Deng Xiaoping made his cartoon debut in 1986, the same year reform-minded leader Hu Yaobang was seen in a cartoon image titled "Comrade Yaobang leads us to sing new songs," Economic Observer reported earlier.
Photo credit: Qianlong Net