Posted: 06/16/2014 10:58 am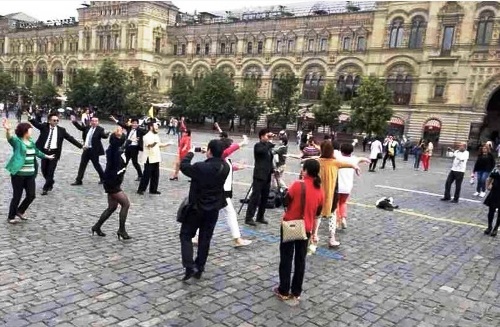 Guangzhou is trying to get rid of it, Sydney wants it, and now Moscow has it: China's infamous "dancing grannies".
Online pictures of a group of Chinese people dancing in Moscow's Red Square have been compared to similar photos taken at the Louvre in Paris, where the culture of dancing grannies was first seen outside of China. However, in Red Square, China's ubiquitous line dancing attracted the attention of local police.
As proud as these dancers are, they are primarily known in China for disturbing residents. Sometimes, police say they even cross into illegal behaviour. For instance, authorities in Inner Mongolia arrested 15 people who they claim used public dancing sessions covertly to enroll people into a cult.
We don't think the grannies in Moscow were plotting anything illegal, but have a look for yourself.
Related:
Photos: Ynet
h/t @MissXQ