Posted: 11/19/2012 7:00 am
It was reported last week that 570,000 people who graduated from universities in China last year are now unemployed, unable to find jobs in a slowing economy. Moreover, according to this 2010 Newsweek article, most of the ones who do find jobs are not in for a picnic either, describing the generation of "ants" for their willingness to work, their dirt-poor living conditions, and the seeming futility of their efforts.
To provide a glimmer of hope, a recruitment fair was held at Jinan University over the weekend to give final year students a chance to enter the "ant race." On Saturday, the university's Shipai Campus held a job fair for students hoping to work in fields related to finance. Then yesterday, another was held for students of humanities subjects, according to Southern Metropolis Daily.
Meanwhile, the Guangzhou University of Technology will host a recruitment fair this coming weekend (November 24-25). Saturday will be devoted to fields such as I.T., construction, and direct selling. Sunday will be for students who do science subjects.
These recruitment fairs are known in China for seeing huge crowds that the Chinese describe as "People sea, people mountain." Here is a picture of a 2008 job fair in Shenzhen (hat tip to Chinasmack)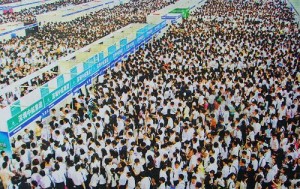 The China Liby Company has already received 10,000 Resumes this year, about half of which were instantly rejected before four rounds of interviews to choose a candidate.
Good luck kids.