Posted: 07/9/2012 1:00 pm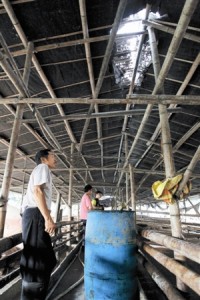 Fifty-three swine died instantly after their sty was struck by lightning in Shenzhen's Guangming New Zone on July 5th, according to local media. The pigs ranged from 100 kilos to 150 kilos in weight, farmer Mrs. Chen told media.
Chen had recently turned down an offer for the pigs which she considered to be too low. "I don't know how I will eat in the coming days," said a tearful Chen.
According to her employer, Chen had bought the pigs with borrowed money, and every day would get up before dawn to feed and water them.
One Weibo user said that pigs are the most tragic of all animals. Another exclaimed, "when will 2012 stop seeing natural disasters?"
"