Tight restrictions on Cantonese broadcasts set for 2012
Posted: 12/19/2011 3:40 pm
Here's some shocking news for those who speak Cantonese as their mother tongue:
"National" standard language of Guangdong province regulations were published on the Guangdong provincial government website on December 12 declaring that as of March 1, any radio, TV or film content containing spoken Cantonese or other local dialects will need prior permission from the State Council or the local government media regulators before airing. For films and TV broadcasts which receive approval, Cantonese segments will be required to have subtitles.
Obviously, this has sparked a wave of discussions regarding the future of Cantonese and even of the PRD's Lingnan culture. Local netizens have been quite vocal on Sina Weibo in their strong opposition to the regulations:
"What a stupid decision they made!"
"What are the standards for implementing this?"
"It's a kind of cultural invasion!"
"They don't need to promote Mandarin, everyone can speak Mandarin."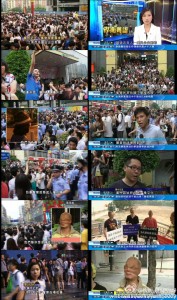 In addition, civil servants, broadcasters, tourist guides and others who serve the public will now be required to speak Mandarin in all circumstances during working hours.
If the regulations do end up being implemented, many radio and TV shows in Guangdong such as "Today's sights of Shantou City," which broadcasts in the local Shantou dialect, will face a certain future.
The last time authorities tried this, the whole city got up in arms and thousands of people rallied in opposition, followed by the occupation of Beijing Rd. for several hours a week later.
Hong Kong blogger Pete Spurrier was at the first protest last summer, about which he wrote at the time:
It was the first demonstration I've seen in China, and it almost didn't happen: the organizer was placed under house arrest the night before. The event was officially banned. But news of it spread online and by word of mouth, and by the time we arrived at the Kong Lam Sai metro station just after 5:30pm, hundreds of people had already gathered in the street, chanting "Cantonese, Cantonese!" and holding up banners. Every now and then, someone would shout something to the crowd — "Guangzhou people speak Guangzhou language!" — and everyone would cheer. An Apple Daily journalist with us estimated the crowd at 1,000. Most were young, in their 20s and 30s, and almost everyone was recording the event on cameras or mobile devices.