Kindergarten abuse: Yaoyao struggling in hospital, another case emerges in GZ
Posted: 10/30/2012 7:00 am
Abuse inside China's kindergartens seems to be a recurring topic these days.  The news of a 20 year-old kindergarten teacher in Zhejiang Province who abused children in creative and brutal ways made headlines around the country recently, while the story of young Yaoyao in Guangzhou surfaced earlier this month.  A shocking video (below) showed 5-year old Yaoyao being dropped on her head by her kindergarten teacher at the Guangzhou Panyu Zihui Children's Rehabilitation Centre, rendering her unconscious.
Southern Metropolis Daily has published a follow-up story saying Yaoyao's family is still struggling to pay the medical fees at Guangdong Tongjiang Hospital.
As well as experiencing serious tissue damage on the left side of her brain and paralysis on the right side of her body, the girl's already poorly developed speech has also been affected. The incident happened July 2.
Doctors say she is unlikely to ever fully recover and 500,000 RMB of medical fees will be needed to keep her alive. Zihui Children's Rehabilitation Center has only payed 100,000 RMB, leaving a burden that the family cannot currently afford.
The rehabilitation centre claims to help children like Yaoyao who have speech difficulties. However, after failing to do everything she was told during a sports activity, Yaoyao was brutally punished by her female teacher.
Then yesterday, Guangzhou Daily reported that a 3 year-old girl identified as Keke had been sexually abused by her 61 year-old teacher.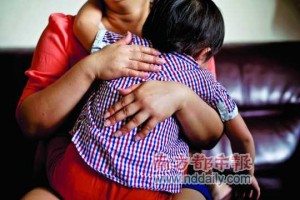 On Oct. 25, Keke's mother was bathing her when the toddler said the lower part of her body was in severe pain. It was later discovered that her teacher had sexually abused her. He was arrested by police in Haizhu District and later confessed to taking the girl into a toilet cubicle and committing obscene acts.
These definitely aren't isolated acts; child abuse at kindergartens are either getting worse, or technology is now shining a much more powerful light on it.