Two ladies of the night were arrested in Shenzhen, but weren't actually ladies
Posted: 08/27/2012 3:11 pm
Two prostitutes were arrested in Shenzhen's Longgang District on August 23. It later emerged that one was a man dressed as a woman and the other used to be a man, according to local media.
They were arrested just after 11 p.m. at Buji Park  and the photographs below were taken while they were in police custody. The case is being investigated.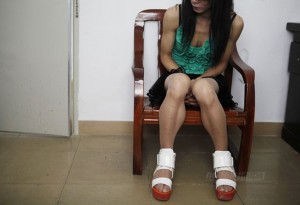 The moral of the story is, if you intend to spend your evening with a prostitute in Longgang District, you play it safe.