At 40,000 RMB a week, Spring Festival is looking more like Spring Disaster
Posted: 02/1/2012 12:38 pm
Monday was chuba, the eighth day of the new year. For most of us, it was the day to get back to work after a short but joyous Chunjie, and also the day to start collecting red packets from employers.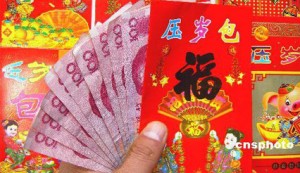 Reunions with family and loved ones aside, as Southern Metropolis Daily (SMD) reported this week, the lunar new year is increasingly a holiday of heavy cash flow and difficult to enjoy without handing out at least 10,000 RMB—or more, depending on one's position in the family hierarchy. Younger PRDers, meanwhile, complain that between visits to friends and relatives, dinner parties and other outings and, for the married among us, the handing out of red packets, year-end bonuses now tend to be gone almost as soon as they arrive.
In telling this story, SMD profiled 30-year-old Wang, a media professional in Guangzhou who spent more than 40,000 RMB this Chunjie. The standard fare for a red packet, she says, has gone from 300 RMB up now to 500 RMB. People also have higher expectations for gifts. Keen to 'save face' as much as they can without going bankrupt, people now tend to guess the costs of incoming gifts and send more expensive gifts in return. According to Wang, all this back-and-forth has grown far too complicated: "To be honest," she says, "I don't really want to go home for Chunjie."
A new kind of Chunjie—春劫, meaning "spring disaster"—is a term now used quite frequently online to describe people's experiences around this time of year. Experts say this new "Chunjie" phenomenon represents a shift in the value people now place on traditional culture.
"Not only during Spring Festival," writes Hu Qiuye, a well-known cultural studies scholar. "We can see one-upmanship in many other ways and customs; values have been twisted such that the first standard to measure a person's success now depends on the amount of money in his pocket."
As for Wang, here's where her 40,000 RMB went this year:
Round-trip tickets for her and her boyfriend: 4,500 RMB
Gifts: 11,000 RMB
Restaurant bills: 2,000 RMB
Lucky money (red packets): 4,000 RMB
Cash for Mother: 20,000 RMB