Parents Block Traffic To Ensure Students Can Take Gaokao in Silence
Posted: 06/9/2014 5:38 pm
The gaokao is nothing short of being the most important moment in a young person's life. And as desperate times call for desperate actions, parents with only the purest of intentions have taken the extraordinary step of blocking the traffic outside a school in Nanjing, Jiangsu to ensure silence where an English listening examination is taking place, reports Nanfang Daily Report.
A full half hour before the exam began on June 8, parents blocked traffic in front of the No. 9 Nanjing Middle School as media and police looked on. Parents stood in the middle of the road and prevented any motorbikes, electric bikes or bicycles from passing through.
READ: Guangzhou, Shenzhen Gaokao Applicants Sent Off
With Emotion and Pageantry
The parents asked each of the cyclists to take an alternate route, but some of the drivers didn't take kindly to the inconvenience as several disputes broke out, surely breaking the silence that the parents had intended.
We've heard a lot of wild gaokao examination stories lately: students arriving late in Jinan and Hangzhou and forced to take the exam next year; parents blocking an examiner's car in Zhengzhou because he dared to use his horn when he was late; and, of course, lots and lots of qipao. But this is the one that shows the gaokao is a total family affair.
No words as to whether the tactic aided the gaokao-taking students, nor whether the resultant noise from the arguing disturbed anyone.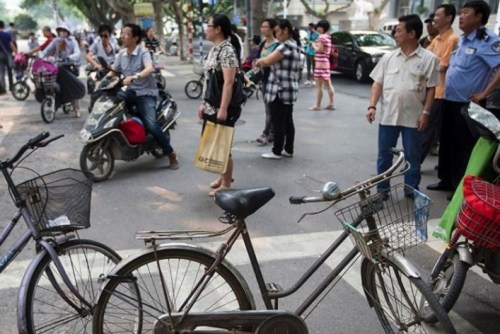 The sign above reads:
English listening exam for the next 15 minutes; please find another route, thank you
Photos: 163