China Faces a Rocky Path to Football Superiority
Posted: 06/23/2014 2:34 pm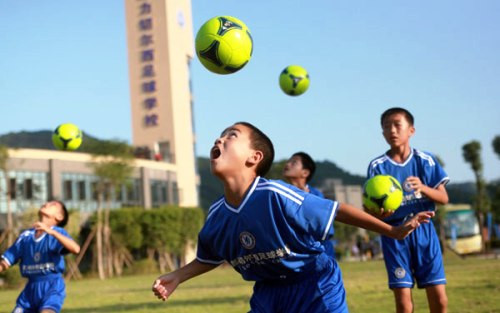 Not content to remain spectators of games broadcast at inconvenient hours, China has taken several steps to try and fulfill its ambitions of international football superiority.
Back in 2011, the sports ministries of China and Brazil signed cooperative agreements that were designed to help promote football development in China. Plans to build more soccer fields went hand-in-hand with encouraging more young Chinese to take up the game.
Nanfang TV: Guangdong's "Football Factory" an Attempt to
Make China a Football Power
Aldo Rebelo, head of Brazil's sports ministry, recently said:
People need to understand that playing soccer is not only for professional players or rich people – the sport needs to be open to all social classes. China needs not only professional teams, but also teams at different levels from communities to cities.
However, this may have been lost on Guangzhou Evergrande when it opened an extravagant soccer academy back in 2012. A reported 2,400 students now attend the RMB 1.2 billion (US$195 million) academy that boasts 50 football pitches spread out over 300 acres. Its staff of 500 include such football luminaries as Sergio Sestelo, 35, a retired Spanish striker.
READ: The Nanfang Talks Evergrande and Chinese Football
with Renowned Blooger
Educating children through football is an idea that's spreading in Guangdong. Guangzhou R&F has opened its own academy nearby as AC Milan is set to host a summer football youth camp at the Soccerworld facilities in Shekou.
Liu Jiangnan, executive president of the Evergrande football school, described his school's vision:
In the developed countries, children have to receive an education before they play soccer. We are making the same effort by introducing top teachers and professional coaches at the school.
Students can receive access to these top teachers and professional coaches by paying a tuition of RMB 50,000 (US$5,000) per year, China Daily reported. Plans to add an extra 800 students between the ages of 10 and 15 will raise enrollment at the academy to 2,800 students.
READ: Guangzhou to Build 100 New Football Pitches by 2016
And yet, this is not the first time China has tried to realize its ambitions of achieving international football supremacy by investing in new educational institutions. Around 4,000 traditional soccer schools were closed in the 90s when Chinese football's image tanked due to a failure to win Asian titles or qualify for the World Cup.
The idea of encouraging football among Chinese children does not address the real issues plaguing Chinese football, said Cameron Wilson, blogger of WildEastFootball.
In an exclusive interview with the Nanfang, Wilson said:
As long as there is corruption, a lack of rule of law, a lack of faith in the rule of law and a general lack of trust except within ones own immediate clan in the wider society, football cannot ever fully escape these phenomena.
Wilson also criticizes heavy-handed top-down approach to solving this problem by authorities:
They need to learn that football is a sport which is best developed from the bottom up – a concept in top-heavy China the powers-that-be obviously find hard to grasp.
Even if China is having a hard time competing internationally, it can count on the support of other soccer powerhouses to help it get there.
Related:
Photo: ecns