Dongguan workers on strike at Samsung supply factory
Posted: 03/31/2014 7:00 am
Two years ago, South Korean electronics giant, Samsung Electronics Co. was accused of exploiting child labour in several of its Chinese supply factories. Samsung is once again embroiled in labour scandal and unrest as workers from one of its Dongguan supply factories has gone on strike, demanding higher salaries and better social insurance.
Net Ease Finance reported on March 30 that a large-scale worker strike took place on March 29 in Samkwang Science & Technology Co. The company has more than 1,000 employees and manufactures mobile phones and DVD players for Samsung.
One of the workers on strike told the news portal that the Dongguan company deducts RMB 80 (or 8%) from a seasoned worker's monthly RMB 1,000 salary for social insurance, which the worker claimed to be a large share, the report said.
The report did not specify how many workers participated in the strike and there was no comment from the Dongguan company or Samsung.
In 2013, Samkwang was accused by US-based China Labor Watch of owing payments to workers, discrimination against men, pregnant women, ethnic minorities and applicants over 39 years old, Business Week reported.
Samsung has more than 200 manufacturing suppliers in China. Back in 2012, China Labor Watch accused the Korean company of hiring child labor at six of its plants and two of its suppliers in China.
Here is a photo of the strike scene from Net Ease: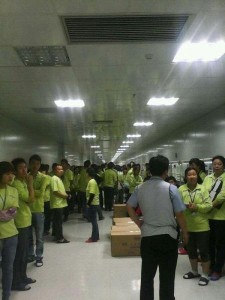 Home page and content page images from Net Ease