Beggars in Shenzhen living secret lives of luxury? Some say it's true
Posted: 04/10/2013 10:00 am
Wu Limin of the Internal and Judicial Affairs Committee of the Shenzhen People's Congress has warned shoppers in the Dongmen area of Luohu District to be careful about giving money to beggars, Southern Metropolis Daily reports.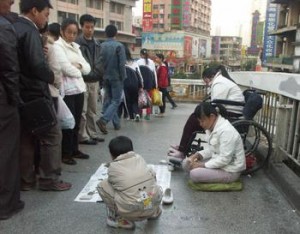 Wu's remarks come after members of the Dongmen Street Law Enforcement Team claimed in the aftermath of a six-month investigation that many of the beggars were not homeless and even lived lives of luxury thanks to gullible members of the public.
Despite many appearing disabled and having elaborate back stories of poverty and illness, members of the team claim that a significant portion of the beggars are not genuine. Moreover, they are often a nuisance to local merchants and shoppers due to their forcefulness. Local party committee secretary Luo Zhiwei said something had to be done.
One beggar who caught the law enforcement team's attention with his forcefulness was a middle-aged man who was often seen begging with a disabled child near Sun Plaza. One day, team members followed him and saw him put the child in the back of a white van with other disabled children and speed away. The man has also been seen begging in the upmarket Futian Fumin Roadside.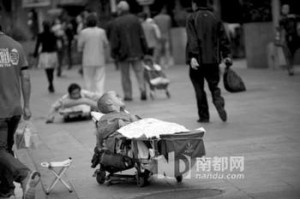 Wu Limin urged relevant government departments to conduct a formal investigation into the beggars in the area, adding that considering the volume of traffic, some may have higher earnings than even himself.
Yi Songguo, professor of Sociology at Shenzhen University, added that, regardless of whether the beggars were genuine, they should not be allowed to become a public menace. Wu fears that they may be sullying the city's image.