HIV and AIDS cases in Guangdong exceed 40,000
Posted: 12/2/2013 7:00 am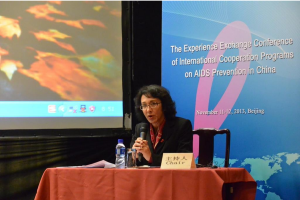 Over 200 delegates representing the Chinese government, the United Nations, the Global Fund on HIV/AIDS, Tuberculosis and Malaria, and other international development partners met this month in Beijing to discuss the future of international cooperation on HIV in China, the UNAIDS website reported. Dr. Hedia Belhadj, UNAIDS Coordinator for China noted the continued importance of international cooperation in reducing instances of HIV: "International cooperation has brought funding to China, but more importantly, it has brought new approaches, new technologies, and new ways of thinking."
By the end of October 2013, the number of HIV and AIDS patients in Guangdong reached 41,922, the Health and Family Planning Commission of Guangdong Province recently announced. In the first ten months of the year, 4,496 people were diagnosed with HIV and 2534 were diagnosed with AIDS in the province. There were 1,331 deaths, Chinanews reports.
Sexual intercourse accounts for 84.9% of all transmissions. Since 2008, the rate of transmission among heterosexuals rose from 37.6% of all cases to 63.1%. Over the same period of time, the rate of transmission between homosexual men also rose significantly, from 6.0% to 21.8%.
Guangdong has only the fifth highest rate of STD sufferers in the country.
Since 2011, the amount of money spent by the provincial government on combating HIV and AIDS has increased from 20 million to 30 million yuan a year. As a country, China has increased the number of people on HIV treatment by 50% since 2011. Methadone maintenance treatment has proved a particularly successful method, but there is evidently a long long way to go.