MTR Staff Member Chastised for Rebuking Urinating Child
Posted: 09/22/2014 8:06 am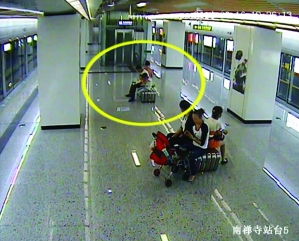 Every MTR station is equipped with at least one toilet, a fact that is often ignored by parents who continue to allow their children to relieve themselves anywhere in the station except the toilet.
On September 16, a sanitary worker at Nanchan Temple station in Wuxi City, identified as Ms Wang, had a very bad day. After a failed attempt to stop a male passenger from allowing his son to relieve himself on the subway station's platform, Wang found herself verbally abused by the male passenger for doing her job, reported Chinese newspaper Modern Express.
According to Wang, the male passenger yelled at her, "What does a sanitary worker do? Isn't your job sweeping and cleaning the floor? If children defecate or pee here, you have to clean it up. Let alone children, even if I pee here, you have to do the same". He then spat on the floor, in front of Wang, and waited for her to clean it up.
Another MTR employee, Ms Li, witnessed the scene and, when she approached, the man yelled at her as well. A female passenger travelling with the man went even further, grabbing Li by her collar and slapping her twice in the face, the report said.
The entire dispute was recorded by cameras inside the MTR station, and local police are investigating the incident.
These days, public urination and/or defecation is a popular subject after reports of the act(s) were spotted in another MTR station, a restaurant, an airplane, and a Hong Kong MTR station.
Photos: Wuxi MTR footage screenshots