Setting Yourself On Fire? It's a Form of Traditional Chinese Medicine
Posted: 06/11/2014 11:39 am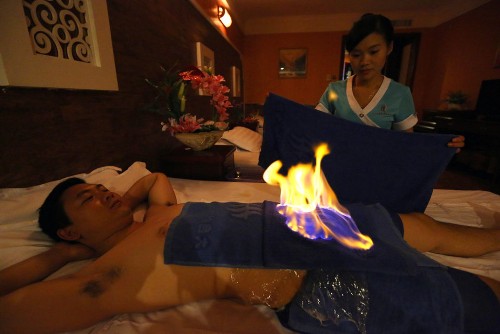 It might be called therapy, but it sure doesn't look relaxing.
The photo above, of a man's crotch on fire, is one of several that have surfaced online depicting "fire therapy", a kind of Chinese medicine. But even though the treatment originates here, even Chinese netizens are aghast at the photos that have been posted online.
Wenzhou Sina News was the first to publish images of a person with two feet sticking out from a pile of towels that were set on fire. Even after it was explained as a form of therapy, many netizens continued to voice their shock and bemusement on Weibo:
Cnqdmght_逆向思维:
Is this regulation service?

蜜又园:
And I was thinking, 'Why is he setting his penis on fire?' [laughingface.emo]

鬼敬主厨:
Scared

智膳帮多元休闲餐厅:
Sir, how well would you like your meat cooked?

客观人士也:
Oh my goodness! Seeing this picture fill my computer screen just made me feel ill! It looks like that man is enjoying himself, the crotch of his pants have caught fire. Who isn't scared when looking at this?
"Fire therapy" is an old Chinese medicine technique that uses the same principles as baguan (fire cupping technique) and acupuncture..
As reported by Guangming Network, the key to this practice is the "fire rope", which is made out of some 20 different types of Chinese herbal grasses. The procedure begins by placing the fire rope on the patient's body, which is covered by a translucent wrap to guard against the heat. Placed on top of the wrap are two wet towels. Alcohol is then poured on top and set alight. The procedure must be performed three times.
Fire therapy professionals stress there are important safety procedures to follow: first, the fire must occur at the correct acupuncture point to be effective; secondly, there must be a wet towel held by an attendant right next to the open fire; third, contact must be maintained with the client at all times; and finally, the fire must be extinguished immediately if the patient believes it's too hot.
One "fire therapy" victim patient described the treatment this way:
It's a warm and comfortable feeling. I feel a warmth soaking into my body.
For such an established Chinese procedure, fire therapy doesn't seem to be familiar to the younger Weibo generation. One expressed her surprise when she saw it:
越悦-:
Shocking scene from a beauty parlor: A person burned alive—apparently, this is a technique in Chinese medicine. Has anyone seen this before?
While foreigners have taken to acupuncture and other traditional Chinese procedures, it may take a while before fire therapy really catches on outside of China.
Photos: Yangcheng Evening Report, Wenzhou Sina News, Weibo