Shenzhen girls move audience with song about friendship
Posted: 05/28/2012 7:00 am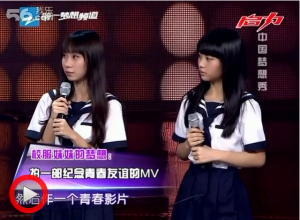 Many of us feel like the best friendships we ever have are ones from our youth. But few of us get the chance to appear on television to express this.
Two teenage girls from Shenzhen wowed the audience at China Dream Show on Zhejiang Television with a song about youth. The girls, Mai Jing Yan and Tu Li Ping, are best friends who claim to "do everything together." However, they are in the second year of high school and are set to see a lot less of each other because Mai is about to move to Hong Kong to continue her education. They appeared on the show to sing the song "Those Years" as a celebration of their five-year friendship.
Despite Tu forgetting her second line, the song, originally made famous by singer Hu Xia, raised raucous applause. The lyrics express nostalgia for school days and the relationships we lose as we get older. Members of the audience wiped tears away as the girls embraced each other on stage. Before they left, the host urged them to make every effort to keep in contact and Tu's entire face was covered in tears when it was announced that the audience had an overwhelmingly positive perception of their singing.
The video of the girls' performance became popular online and they quickly became known as the "School Uniform Sisters" because of what they were wearing on stage. A microblogger named Lu Cha Together said the video made her remember her girlfriends in school, another exclaimed "Long live friendship. I support you."
Many parents struggle to have their children educated outside mainland China because the education system has such a bad reputation. The Gaokao is particularly notorious, as we told you before.