Posted: 07/17/2014 10:24 am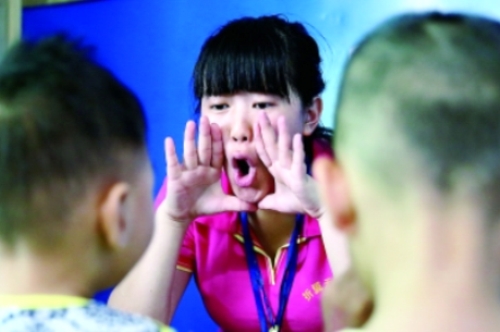 Mental health in China is mostly a taboo topic, one that must be hidden rather than addressed publicly. And yet, a Chongqing doctor has attracted controversy not just because of her unorthodox methods of treating mental illness, but because she seems to be getting results.
The prevailing view is that autism is incurable, but a 36 year-old Sichuan native named He Xiaoyan claims she can do it, reports the Chongqing Commercial Report.
He operates the Leyi Amalgamated Kindergarten in Geleshan County. Throughout the past ten years, the school has taken in 960 children, some of which are autistic. He says she has "cured" ten of them.
He uses forceful and violent methods to treat these children using what she calls "hate therapy". She uses a simple idiom to describe the treatment: "If violence is used by the child, then violence will be returned on the child."
As difficult as this is for parents to accept in the beginning, they usually come around to it. Here are a few cases of autistic children and the treatment they received:
Four year-old Xiaoxiao was prone to biting, both herself and other people including students and teachers. To remedy this, teachers first tried slapping Xiaoxiao's hand. When that didn't work, He purposely provoked Xiaoxiao in order to incite her to bite. When Xiaoxiao bit someone, she was bit herself, sometimes even by He. Xiaoxiao was told, "Whether you bite yourself or others, it will hurt." Half a year later, Xiaoxiao stopped biting people.
Five year-old Tongtong was prone to falling on the floor whenever he was angry, thereby hitting his head and causing it to bleed. To treat Tongtong, He wrapped up Tongtong's head in protective material and allowed him to repeatedly fall on the ground. This way, He allowed Tongtong to hurt himself, but not harm himself. Also, because Tongtong was afraid of heights, He suspended him from a tree a meter off the ground as part of his therapy. After screaming for three minutes, Tongtong was let down. A month later, Tongtong's behavior changed.
Six year-old Feifei was prone to running into walls. If there was no one to prevent him from doing so, Feifei continues to run into walls until he was bloody. He treated this case by provoking the child to run into a wall in the presence of a parent. He then took the child's head, and rammed it into the wall with the parent watching. Next, He asked for the parent to comply, but they refused, causing the parent to further cry in front of the child. After two months, Feifei's behavior changed.
Six year-old Liangliang loved playing with water to the extent that he would get his entire body wet. He took Liangliang to a pool where he immediately jumped in. As part of his therapy, He took Liangliang by the head, went to the deepest part of the water, and held his nose and mouth underwater for an extended period of time, twice. Later, if Liangliang was seen playing with water at the kindergarten, he was pelted with water from head to toe. A year later, Liangliang changed his ways.
Five year-old Shuaishuai was prone to throwing things around. At first, striking Shuaishuai's hand with a chopstick proved to be useless. Then, He devised a treatment: Shuaishuai was given a ball and allowed to to throw around. Later, when Shuaishuai reached out for the ball, He hit his hand. Shuaishuai then changed his behavior so that he only threw objects when no one was watching. At this point, He would hide and jump out whenever Shuaihshuai was about to throw anything. Six months later, Shuaishuai stopped throwing things altogether.
He Xiaoyan graduated in 2003 from Serious Medical Clinical Pediatrics. She also qualified as national second-tiered psychological consultant in 2012. In 2013, she received her PhD in teacher management studies from Beijing Normal University.
Credentials aside, He addresses the controversy against her treatment of autism in this interview:
Reporter: When undergoing your "violent" educational practices, have parents criticized your techniques?
He Xiaoyan: (laughs) Each time I'm about to employ a technique, I always notify the parents to ask if they have any suggestions. If they agree with me, I will execute the procedure. If they have any worries, I will not do it.

Reporter: Through your procedures, will the children suffer any harm?
He Xiaoyan: At the present time, there is no clear drug available that will cure children with autism. I am a doctor as well as a national second-tiered psychological consultant; one must have a firm grasp, not too hard and not too light, in order to apply the principles of these special education techniques. "Hate therapy" must be an organic synthesis of medicine and psychology which must be focused and creative in its application.

Reporter: Whenever you "get angry" and you hear a child cry afterwards, what is your feeling?
He Xiaoyan: Cruel, just mercilessly cruel. But, the goal is to cure them.

Reporter: How do you deal with all the criticism?
He Xiaoyan: So long as I have the parents' approval, I will implement these procedures. They are the source of all my actions. I feel that by doing this I can save the children, save the family unit, and even the entire extended family.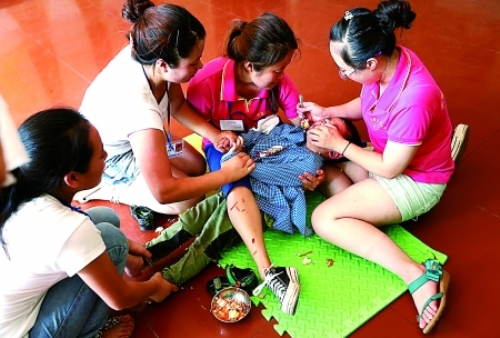 One such child that has been successfully "cured" of autism is nine year-old Chunchun. Chunchun is currently enrolled in third grade at a regular school and was able to answer all of the reporter's questions, even if she was a little shy.
Chunchun was rated on the Childhood Autism Rating Scale (CARS) at 16, in which a rating of 30 is judged to be autistic. Chunchun was also judged to have an IQ of 40.
Though details of Chunchun's treatment weren't revealed, he is said to have progressed so far at the school that he was able to sing the songs The Agreement of the Rainbow and Only Mother is Good in This World as well as perform the Cow Dance at the kindergarten graduation ceremony.
Because of successful cases like Chunchun's, He has the support of her patients' parents. Over 90% of the parents approve of  He's procedures even though they consider them to be "cruel". The parents believe as long as the child is cured, any method to achieve it is acceptable.
A Chengdu parent said:
When a child is afflicted with autism, it's the whole family that must bear the pain. By sending the child here, there's a hope that Miss He will be able to cure the child.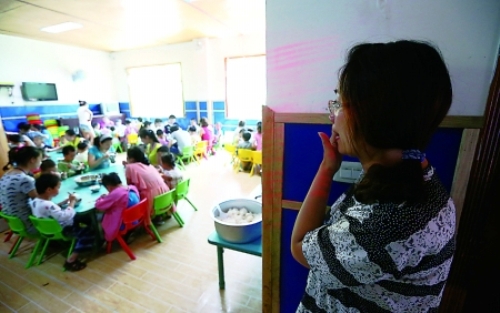 Mr Liu of Dadukou, Chongqing, had once gone to the kindergarten only to see his child's condition flare up. That's when he saw Miss He take the child's head and ram it into the wall. Regarding the incident, Liu said:
As I watched, tears flooded my face and my heart felt wrenched out of my body. However, Miss He used the proper amount of force and didn't allow my child to come to any harm.
Liu supports He to do the necessary job at hand. Liu said:
If it happens at home, we wouldn't be able to act (like Miss He does against our child).
He has been rehabilitating autistic children with her "hate treatment" for some time now, and it looks like she will continue to do so as expert opinion remains divided upon the proper way to deal with autism.
Mei Qixia, Deputy director of the Chongqing Pediatric Growth and Development, supports He Xiaoyan and encourages "brave and creative" responses:
In regards to autistic children, if medicine will adversely affect the outcome of treatment, a normal way is to adopt training as the main method. Drugs can still be used to complement treatment during the procedure. After undergoing "special training", the IQ and speech ability of some children can be recovered to the level by which some of them will be able to read normally. Speaking from a medical perspective, the methods of "violent" teaching can attempt or even encourage bravery or innovation. However, specific needs must be determined for each situation. They must be individualized and not treated the same way.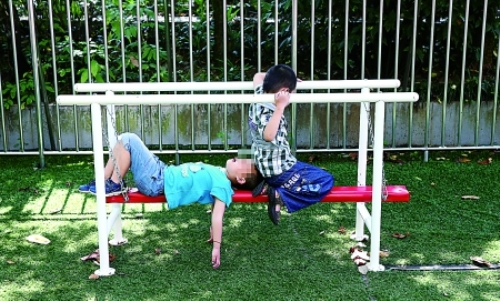 Taking the contrary opinion is Dr Zhang Zhongming, Secretary-General of the Psychological Teaching and Work Committee of the National Psychological Association. Zhang stresses caution and calls for more research:
The causes of autism are not clear and I am against this type of "violent" rehabilitation. Through this training, the child can easily incur more hurt and harm, and does not bring about an easy application. Even though some cases have gotten good results, but we must first research the evidence.
With so much controversy surrounding her, we are reminded as to why He Xiaoyan opened a school to treat autistic children in the first place:
After seeing parents with tears running down their faces and a helpless expression, I made my decision.
Photos: Chongqing Commercial Report