Posted: 06/1/2014 5:30 pm
Get out your wallets, adjust your 3D glasses, grab a date—the 2014 summer blockbuster season is well under way.
This year's crop has already begun showing at local Chinese theaters, but there are still many movies to come despite a truncated schedule.
Expats in China looking for Hollywood movies won't be able to watch a whole bunch of films including Sin City: A Dame to Kill For, Lucy, 22 Jump Street, and Blended. Furthermore, audiences in China may face "after-market alterations" that have been seen in local showings of Mission Impossible 3, Transformers 2, and Skyfall.
All the same, here is the line-up for Hollywood blockbusters this summer. Note that some release dates are still unconfirmed and may be changed.
We're sure that you're more than familiar with many of these films, as many of them are sequels with massive promotional campaigns to support them, so instead we're going to offer our opinions on how these films will fare in the Chinese market.
The Amazing Spider-Man 2—already playing
No one in China objected to the removal of the line "With great power comes great responsibility" just as no one will mind that this is the second Spider-Man movie to come out in recent history with a "2″ beside it. Decent box office.
X-Men: Days of Future Past—May 23, a day in the distant past
Chinese superstar Fan Bingbing shows up in a short cameo, but for a Western movie to properly pander to a Chinese audience, you'll need to cast her as a nurse in scenes that are completely cut out of the international release as seen in Iron Man 2. This film will do alright, but really needed Wolverine to show up at a Chinese school and show his approval for doting Chinese students dressed with red scarves.
Godzilla—June 13 US release, no China date yet
Japan… destroyed… by a manifestation of its own hubris? A film with such a premise should ideally go gangbusters in China, but Chinese audiences will likely get confused with a Japanese lead actor who isn't wearing a Hitler mustache and barking orders with a sword. No deal.
A story in which a character cannot move forward in time, but instead is forced to relive the same events over and over until he gets it right? On this day? Chinese audiences aren't interested in such an impossibly fictional story with no basis in reality.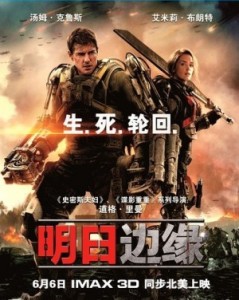 How to Train Your Dragon 2—June 13
Did you know that Chinese people are descended from dragons? No dice for this film.
A beautiful woman with a mysterious persona tries to make her way through the world facing public tribulations and personal setbacks. Should do just fine.
A beautiful woman with a mysterious persona tries to make her way through the world facing public tribulations and personal setbacks. Should do just fine as well.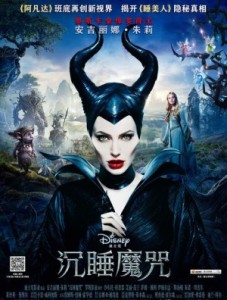 Transformers: Age of Extinction—June 27
This is your box office champion for foreign films this year, bar none. And this film will be hyped beyond measure: Michael Bay was savvy enough to promote the last Transformers sequel by loudly admitting he had studied Chinese history in school, a tactic bested only recently by Johnny Depp who unveiled a Chinese tattoo during the Chinese promotional tour for Transcendence.
This new Transformers sequel is targeting a Chinese audience with specific in-film promotions, using settings in China, and by releasing numerous Chinese promotional materials, something that other summer films can't say. The blurry action and huge explosions will obliterate any concerns of American troops kicking giant robot ass on Chinese soil.
Here are some Chinese posters:
Dawn of the Planet of the Apes—July 11
Worst. Journey. To. The. West. Reboot. Ever.
We should always expect offerings from the Wachowski siblings to be imaginative, but it's weird that there has been little hype for this film. Look for it to be mostly ignored by Chinese audiences who won't know a thing about it. It doesn't bode well for your film when promotional materials cut off the title.
That fire looks to be a little close, and now we can all smell what the Rock is cooking. Won't be a draw for Chinese audiences.
Guardians of the Galaxy—August 1
We are absolutely in giddy anticipation for these "bunch of a-holes". This film should still do well in China despite the many subversive elements lost on a Chinese audience (Hey, is that an animated animal with a gun adjusting his junk in the trailer? Must be a Marvel movie).
Teenage Mutant Ninja Turtles—Aug 8
Not dignified enough to be an animal belonging to the Chinese zodiac, turtles are a terribly unlucky animal in China, something that will compounded by the titular characters of this new gritty reboot having lips. We'll see if Megan Fox will be enough to counter-balance the repulsive elements of this film.
The nostalgia factor is not likely going to be high for a Chinese audience; neither will the stunt casting of Mel Gibson and Wesley Snipes. Respectable box office, but will have a luke-warm response.
Not a Hollywood blockbuster, but a domestic film you will enjoy if you hate life and enjoy contradictions and superficiality.