Posted: 06/20/2014 1:14 pm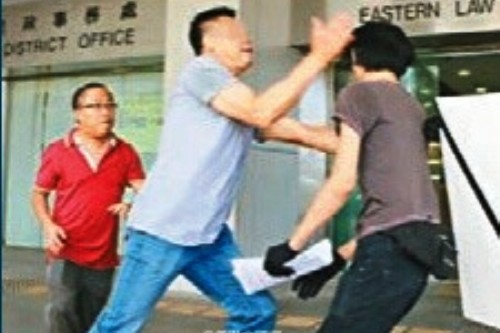 A member of the group "Hong Kong People First" was assaulted as he stood before a courthouse to stand trial for having trespassed upon a People's Liberation Army military base, reports Sina News.
Zhao Xiancong and other members of Hong Kong People First gathered outside the Eastern Law District Office on June 19 and were shouting slogans like "Independent Hong Kong" and "Long Live Hong Kong".
Then in full view of reporters at the scene, a middle-aged man suddenly charged at Zhao and struck him twice across the face, shouting in Cantonese, "Are you Chinese? What kind of country are you trying to establish?"
Zhao later stated he does not know the person who assaulted him.
Zhao and three other people, all members of Hong Kong People First, are charged for trespassing upon the Chinese mainland military base stationed in Hong Kong. Last year, on December 26, Zhao and the others burst onto the base waving the flag used by Hong Kong under the British colonial government.
Zhao was sentenced to two weeks in jail and given a suspended prison sentence of 12 month for his role, described as a "ringleader". Two other people, Zhang Hanxian and Xie Yongwen, were fined HK$2000.
A fourth person was a minor at the time of the incident, and has had their case transferred to juvenile court. They will be tried on June 25.
Hong Kong People First is a group that opposes issues that concern mainland China such as the grey market of smuggling goods across the border.
Hong Kong is becoming more volatile ahead of a vote today on three proposals for full universal suffrage in Hong Kong. Beijing opposes all three options, and has warned a planned protest in Central this summer could destabilize the city.
Related:
Photos: Sina, Southern Metropolis Report