Posted: 08/3/2013 11:00 am
It was party time last weekend at the That's PRD Beach Luau, and while most people had fun the party was not without some problems.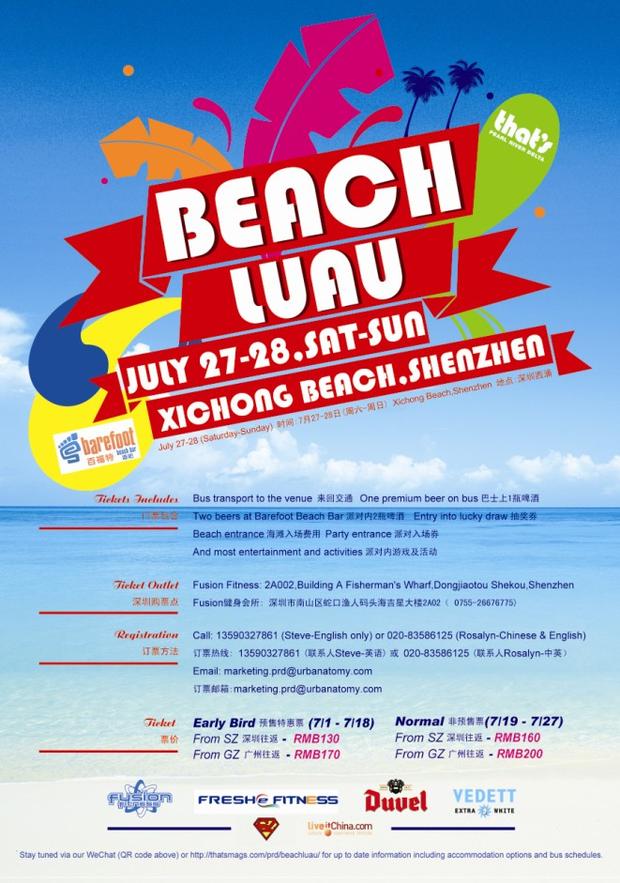 Let's get the bad news out of the way first. The buses from Shenzhen left late (which, admittedly, isn't too uncommon when it comes to Chinese transportation). However, our driver then wasn't sure how to get to the second pickup point. While we were heading out to Xichong Beach, the announcer on the bus said that no cash would be accepted to buy food or drinks throughout the weekend; instead, people would have to purchase tickets that would be used instead.  Apparently, we would be able to cash in any unused tickets at the end, but unfortunately that wasn't the case.
There was also some misunderstanding at the venue itself.  Lunch was RMB60 for a set plate of either a beef burger or honey mustard chicken breast.  The sides were a choice of potato chips, salad, or roasted vegetables… or partially cooked onions. The servers weren't aware that onions were a burger topping, so would provide them only as a side (meaning people couldn't select an actual side if they took the onions).  This isn't a huge deal on its own, but was another annoyance on the trip.
For drinks there was a fair amount of different cocktails and soft drinks with different ticket values, and most seemed reasonable. The dinner was supposed to be another set meal choice of a plate of pork from the roasted pig and/or some pasta and salad for RMB100 (which was 10 tickets' worth). The pig was already cut up, which took away from the idea of having a true Luau-style roast.
However, it wasn't all bad. In fact, despite the hiccups, a lot of people had fun. The organizers took time to make sure that there were lots of activities available for all to take part in.
Sumo wrestling was a real blast. It was very enjoyable watching people put on Sumo wrestling suits and fight it out in the sand. Many people seemed to take part in this and had fun.
Fusion Fitness and Freshe Fitness lead a few activities on the beach throughout the day. A group for Tug of War as well as Beach Volleyball.
Despite a technical glitch during one large short burst of rain that blew away a canopy and knocked out the music, the DJ's were actually very good and the sound was loud and clear. The sets were interesting and never did I feel bored by what was being played.
The private swimming pool was a nice touch with the floating beach pillows that people used to race on. The water was noticeably green but we were assured the water is changed often and that the colour was due to it being mountain spring water.
Vedett beer provided a fun little diversion in the form of a free beer chugging competition, but the catch was you couldn't use your hands. Some people left happy and hammered. A welcome combination at any party.
There were also some beer pong tables set up by the ShenZhen Ultimate Players Association that people were using occasionally through the night. The SZUPA also got a fair amount of people throwing frisbees around on the beach earlier on.
Then it got wild. A red flower watering pot was brought out and three girls and a guy in a sailor suit took part in a wet t-shirt contest. Everyone seemed to enjoy this and this really helped get the partiers dancing to the great DJs.
The party went all night and there was luckily no more rain.
All in all, I'd give this Beach Luau a 3 out of 10 for authenticity in terms of a Luau, a 4 out of 10 for their changing ticketing system and prices, a 5 out of 10 for the food, and an 8 out of 10 for music, activities, and the many prizes they gave out.
I'd go again just for the beauty that is Xichong beach. All the problems above are fixable for next year.
(Homepage Image Credit: eChinaCities)